Own a Fire TV, Fire Tablet or Echo Show? Get a Complimentary
1-Year Subscription to Food Network Kitchen
Just open the app on your Amazon device to activate your subscription.
Update 6/30/20: Now, in addition to this offer being available to Fire TV and Fire tablet owners, Echo Show owners can also activate a complimentary subscription to Food Network Kitchen, courtesy of Amazon. Just say, "Alexa, subscribe to Food Network Kitchen," to get started.
This post was originally published on 4/27/20 and has been updated.
When we launched the Food Network Kitchen app last fall, our goal was to help anyone and everyone learn (and love!) to cook. Want to try your hand at making sourdough? We've got a class for that. Interested in perfecting your cake-decorating skills? Look no further. Desperately in need of a 20-minute dinner, but no clue where to start? We're here for ya.
And in these unprecedented times, we need the comfort that cooking can bring now more than ever. Like our chefs say — when times are tough, we cook. When you're preoccupied in the kitchen (and eating something delicious), being stuck at home feels a little bit easier. Food Network Kitchen is here to help you feel confident and comforted behind the stove. Our live and on-demand classes help you plan meals for the week, sharpen your cooking skills, and inspire you to be curious and try new dishes. Overall, our goal is to be there for you, however you need us.
And that's why we're so excited to announce our latest collaboration: Starting now, if you're a Fire TV, Fire tablet or Echo Show user (past, present or future!), you have access to a 1-year complimentary subscription to Food Network Kitchen Premium, courtesy of Amazon. All you need to do is open the app on your Amazon device to activate the offer (with Echo Show, say "Alexa, subscribe to Food Network Kitchen"). After that you can also sign in on your mobile device, so you can use Food Network Kitchen wherever you'd like. Think of how much you can cook in a year! And we're constantly rolling out new recipes, classes and videos so you'll never get bored.
On May 2 and May 3, we celebrated this collaboration with "We Cook Together Weekend" — a jam-packed lineup of LIVE classes on Food Network Kitchen taught by your favorite chefs. Bobby Flay, Alex Guarnaschelli, Michael Symon, Valerie Bertinelli, Jet Tila, Amanda Freitag, Marc Murphy, Scott Conant and Tyler Florence were there (cooking from their homes!) to demonstrate some of their favorite recipes. If you missed this special weekend, you can now find those classes on-demand in the app. Catch up and share your creations with us on social media using the hashtag #wecooktogether — we just might share your dish on our feed!
Want to know more about Food Network Kitchen? Here's why you should activate your subscription today:
We're Here to Help You Get It Done
The Food Network Kitchen app includes access to all the recipes you already know and love from Food Network, but the premium subscription offers so much more. We've got thousands of on-demand cooking classes, a slate of weekly LIVE classes, plus swipeable step-by-step video recipes that make following along easy. We're here to help you get a weeknight dinner on the table (sheet pan fajitas, anyone?), but we also want you to feel more confident and inspired every time you cook. For instance, take a knife skills class with Rachael Ray, learn how to pipe rosettes with Dan Langan, or work on braising with Michael Symon — these chefs are a fount of knowledge and they love to share.
Food Network Kitchen is where you can get creative and discover recipes you might not have otherwise tried to cook. Not sure where to start? Try Cinnamon Bun Pancakes, Molly Yeh's Challah, Saffron Basmati Rice with Tahdig or Bobby Flay's Steamed Mussels.
Plus, Food Network Kitchen is interactive — during the live classes you can use the chat feature to ask a cooking question and the chef hosting the class or one of our culinary moderators will help you out! We love hearing from you all in the chat — it's fun to know what you're thinking!
In addition to all the solutions Food Network Kitchen can provide you, we all also know how much you like to kick back and relax with your favorite Food Network chefs. You'll get commercial-free, on-demand access to all your favorite Food Network shows, like Barefoot Contessa: Back to Basics, The Pioneer Woman, Trisha's Southern Kitchen, Girl Meets Farm and much more.
We hope you'll activate your complimentary subscription today! We're ready to get cooking with you.
Starting 4/27/20*, customers who own or purchase an Amazon Fire TV device or Fire tablet are eligible to receive a 1-year complimentary subscription to Food Network Kitchen. Only new subscribers or existing subscribers via Amazon in app purchase are eligible. Cannot be combined with any other offer, free trial or promotion. Must be redeemed by signing up via an eligible Amazon device by 4/26/21. Complimentary subscription automatically converts to a paid subscription on an annual or monthly basis unless canceled during complimentary subscription period. To cancel go to www.amazon.com/appstoresubscriptions. Only available in the U.S. Offer is non-transferable and may not be resold.
*As of 6/30/20 customers who own or purchase an Echo Show are eligible for the same promotion subject the same terms and conditions as set forth above.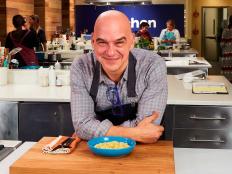 Cook along with your favorite chefs in real time, ask them all the questions you have, and so much more.