Two Ways to Use: Root Beer
By:
Food Network Magazine
There are numerous brands of root beer available to consumers, and no one recipe is the same. Ingredients like allspice, birch bark, vanilla bean and licorice give this classic drink a unique taste that pairs so well with vanilla ice cream. This month, Claudia Sidoti and Dave Mechlowicz are tackling and transforming the sweet, carbonated soda pop into a cake and grown-up root beer float.
Claudia says: "I love root beer in just about every form. It tastes great with chocolate!"
Dave says: "This float reminds me of my childhood -- but with a kick!"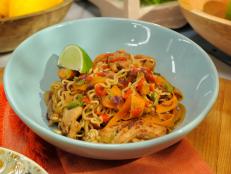 While chicken breasts often steal the fuss-free-dinner show, there's another star piece of chicken that's deserving of the spotlight: chicken thighs.