Reinvented: Guacamole 5 Ways
Here in Food Network Kitchens, we love simple, classic recipes. We are also paid to think about food all day. So we've taken classic foods and drinks and reimagined them into three, four or five different ways. No standard recipes here, just the occasional technique and pictures. Think of it as a picture recipe.
Guacamole is definitely a top 10 crowd-pleaser, so we decided to mix it up and add four more ways to keep the party going.
First, start with the classic version below:
Here are several new ideas to add new life to a classic: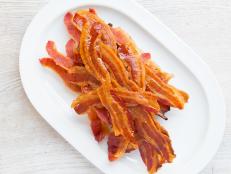 ... is actually more than one way. The perfect method depends on the circumstance. Here's how to get perfect bacon every time, no matter what.