As Quick as Delivery: Easy Pizza Recipes
Ditch the delivery drama and slice up a pizza of your very own. We're not talking about taking a box from the freezer. With the help of store-bought dough (available at most grocery stores or pizzerias), these pizza recipes are as quick as ordering in. Simply stretch out the dough, don with your favorite toppings and pop it in the oven.
Sometimes a good pizza comes down to the trilogy: mozzarella, tomato and basil. Giada De Laurentiis creates the classic slice with her Pizza With Fresh Tomatoes and Basil recipe.
Sandra Lee's BBQ Chicken Pizza puts store-bought chicken tenders, shredded Gouda and barbecue sauce to use.
On a smaller note, Pizza Pockets come loaded with turkey sausage and arugula and trade the usual large triangle for a dish perfect for parties.
If you're looking to make dough from scratch, use Tyler Florence's Pizza Dough recipe as your guide.
For more recipes and tips, check out Food Network Magazine's take on 50 Easy Pizzas.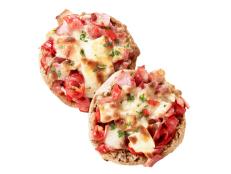 Forgo the sugary, fruit-filled pastry (you'll only crash in an hour) and go for some fiber-rich carbs, fresh fruit, lean protein or veggies for breakfast. If you often find yourself starving by lunch, up the amount of fiber in breakfast; this will help keep you full.
Check out a few of Food Network's favorite simple-to-make recipes for no-fuss morning meal ideas that the whole family will enjoy and must-see tips.