Kid-Friendly Veggie Sides for Spring
More likely than not, your kids have better things to think about than garden-fresh produce, bustling farmers' markets and mindful grocery shopping. But, when they sit down at the dinner table, all that good stuff is what's for dinner, even if they're morally opposed to eating their veggies. Use these recipes to get your kids excited about spring produce.
For some, green beans are good eaten straight out of the produce bag. But for those who need a little push, Alton Brown's Best Ever Green Bean Casserole is just as the name implies. Rather than using the store-bought crunchy onions, Alton whips his up from scratch.
Broccoli is typically a no-go for most little ones, but when it's served up in a style reminiscent of mac and cheese, it's much easier to sell. With a foundation of rice and a scattering of florets, Sunny Anderson's Cheesy Mushroom and Broccoli Casserole does just that.
Since when does a kid come down with a hankering for spinach? With its cheesy and comforting disposition, the Barefoot Contessa's Spinach Gratin — or her Zucchini Gratin — makes getting your daily intake of veggies easy.
Food Network Magazine's Four-Cheese Pasta With Peas and Ham disguises the green element with mozzarella, fontina and sharp cheddar, and it can be portioned as a filling side to chicken breast.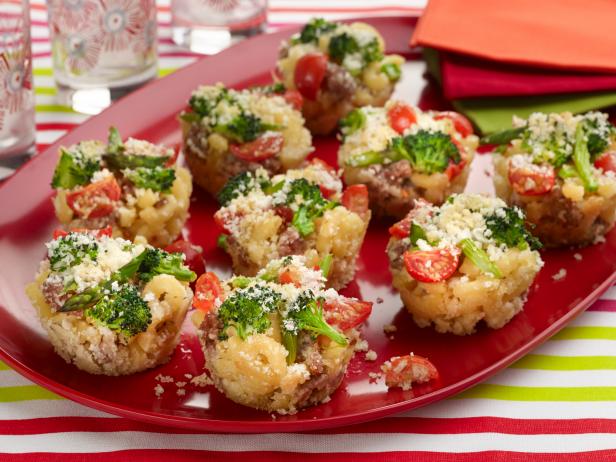 GiadaDeLaurentiis_BakedMacaroniAndCheeseCupcakes_H
Chef Name: Giada De Laurentiis Full Recipe Name: Baked Macaroni and Cheese Cupcakes Talent Recipe: Giada De Laurentiis' Baked Macaroni and Cheese Cupcakes, as seen on Giada at Home FNK Recipe: Project: Foodnetwork.com, Back to School/Sandwich Central/Dinner and a Movie/Sides Show Name: Giada at Home Food Network / Cooking Channel: Food Network
Renee Comet, 2013, Television Food Network, G.P. All Rights Reserved
Mac and cheese is a crowd-pleaser from the start, but when it's morphed into Baked Macaroni and Cheese Cupcakes, it's a whole new ballgame. Giada De Laurentiis stocks hers with asparagus, chopped broccoli and cherry tomatoes.
Dinnertime is about to get a whole lot easier.