Grilled Cauliflower Steak with Israeli Couscous and Olives — Meatless Monday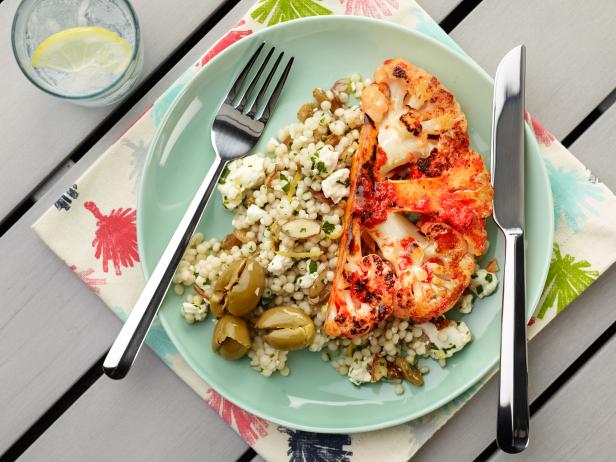 FNK_GrilledCauliflowerSteakWithIsraeliCouscousAndOlives_H
Chef Name: Food Network Kitchen Full Recipe Name: Grilled Cauliflower Steak with Israeli Couscous and Olives Talent Recipe: FNK Recipe: Food Network Kitchen's Grilled Cauliflower Steak with Israeli Couscous and Olives, as seen on Foodnetwork.com Project: Foodnetwork.com, SUMMER/APPETIZERS/PASTA Show Name: Food Network / Cooking Channel: Food Network
Renee Comet, 2013, Television Food Network, G.P. All Rights Reserved
While burgers, hot dogs and barbecue may be classic picks on Memorial Day, there's no reason to forgo a Meatless Monday today, as it's indeed possible to enjoy the tradition of grilling without indulging in meat. The secret is to swap in a different hearty ingredient in place of the usual beef, chicken or pork. Enter cauliflower. Every bit as hefty as a hunk of meat, cauliflower stands up well to high-temperature cooking, so it can be cooked on the grill, and it's a natural pairing for bold flavors, which makes it easy to dress up with spice rubs and seasonings. Plus, if you slice a head of cauliflower into thick-cut steaks instead of tiny florets, the results are satisfying enough to be served as a main dish for meat eaters and vegetarians alike.
Food Network Kitchen's recipe for Grilled Cauliflower Steak with Israeli Couscous and Olives (pictured above) is an all-in-one dish that's both simple to make in a hurry and packed with plenty of tastes and textures. The key to this recipe is the harissa-olive oil mixture that's rubbed onto the cauliflower before cooking; the warm spice infuses the vegetable as it cooks, and what results is tender, smoky cauliflower every time. Because the cauliflower cooks in throwaway foil wrapping, cleaning up the grill is a cinch. Serve the vegetable with a simple side of lemon-ginger couscous studded with raisins and tangy feta cheese, and finish each plate with green olives and a squeeze of bright lemon juice.
Meatless Monday, an international movement, encourages people everywhere to cut meat one day a week for personal and planetary health. Browse more Meatless Monday recipes.