Grilled Eggplant Chickpea Wraps — Meatless Monday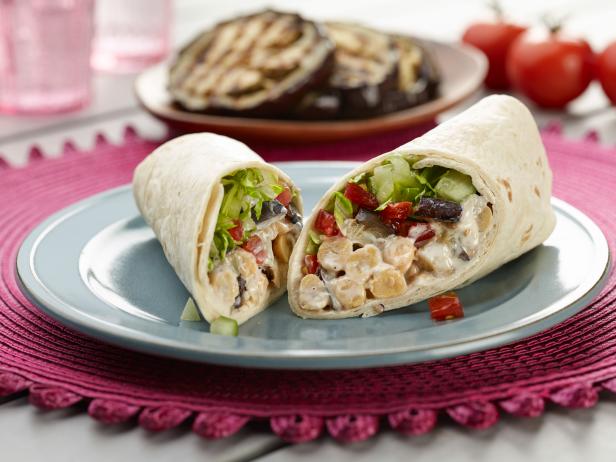 FNK_GrilledEggplantChickpeaWraps_H
Chef Name: Food Network Kitchen Full Recipe Name: Grilled Eggplant Chickpea Wraps Talent Recipe: FNK Recipe: Food Network Kitchen's Grilled Eggplant Chickpea Wraps, as seen on Foodnetwork.com Project: Foodnetwork.com, SUMMER/APPETIZERS/PASTA Show Name: Food Network / Cooking Channel: Food Network
Renee Comet, 2013, Television Food Network, G.P. All Rights Reserved
Making lunch shouldn't have to be a long, arduous affair. For extra-busy days, you need something that can be prepared in a flash — and that's where chickpeas come in. Bursting with protein and fiber, canned chickpeas are already cooked, so all you have to do is rinse and drain them to pack some nutrition into your meal.
In this Grilled Eggplant Chickpea Wraps recipe from the chefs of Food Network Kitchen, the chickpeas are paired with sauteed eggplants for a tangy twist on a Middle Eastern falafel. The mixture is topped with a creamy, garlic-based yogurt sauce and stuffed in a soft tortilla wrap. Top the dish with oregano, tomato, lettuce and cucumber. With this recipe, lunch is ready in 20 minutes flat, and with a side of salad or french fries, you could make it an easy weeknight dinner staple as well.
Meatless Monday, an international movement, encourages people everywhere to cut meat one day a week for personal and planetary health. Browse more Meatless Monday recipes.