Best 5 Roast Beef Recipes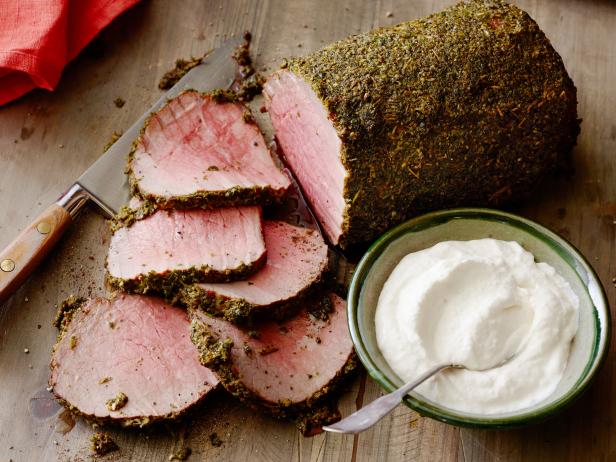 HERBCRUSTEDROAST BEEF WITH HORSERADISH CREAMSunny AndersonCooking For Real/Spring Forward, Fall BackFood NetworkBoneless Beef Eye Round Roast, Pepper, Vegetable Oil, Garlic, Parsley, Thyme, Oregano,Mustard Powder, Sour Cream, Horseradish, Lemon Juice, Salt,HERBCRUSTEDROAST BEEF WITH HORSERADISH CREAMSunny AndersonCooking For Real/Spring Forward, Fall BackFood NetworkBoneless Beef Eye Round Roast, Pepper, Vegetable Oil, Garlic, Parsley, Thyme, Oregano,Mustard Powder, Sour Cream, Horseradish, Lemon Juice, Salt
Matt Armendariz, 2014, Television Food Network, G.P. All Rights Reserved
Forget the dry, chewy meat you may have been served as a child — today's roast beef is tender, juicy and packed with flavor. Whether you dress them up with herbs and sauces or you let the natural taste of the beef speak for itself, roasts will wow your family and guests alike, and most are simple to prepare. Plus, while fancy steak dinners may be pricey, roast beef allows you to enjoy a more budget-friendly cut of meat without sacrificing flavor or texture.
Read on below to find Food Network's top-five roast beef recipes from Giada De Laurentiis, Rachael Ray, Trisha Yearwood and more of your favorite chefs.
Sunny Anderson coats her boneless roast with a bold mustard-laced herb paste, then she roasts the meat until moist and serves it with a cool combination of horseradish sour cream.
Easy to prepare yet impressive enough to serve to guests, Giada's fuss-free roast is topped with a drizzle of tangy roasted tomato-studded parsley sauce.
Follow Rachael's lead and dot the beef with garlic cloves before letting it simmer in a rosemary-white wine sauce. She serves the roast alongside tender vegetables and buttery pasta to make it a complete meal.
It takes just five ingredients to prepare Trisha's go-to dinner. Once the roast has finished cooking, she uses its juices in the bottom of the pan to make a smooth gravy.
Boasting a fresh-herb crust, Jeff Mauro's juicy roast beef is the star of his over-the-top sandwich, layered with nutty Gruyere cheese and his crunchy Pickled Radishes, and finished with a dunk in warm jus.