Grilled Cheese-Stuffed Chile Tacos — Meatless Monday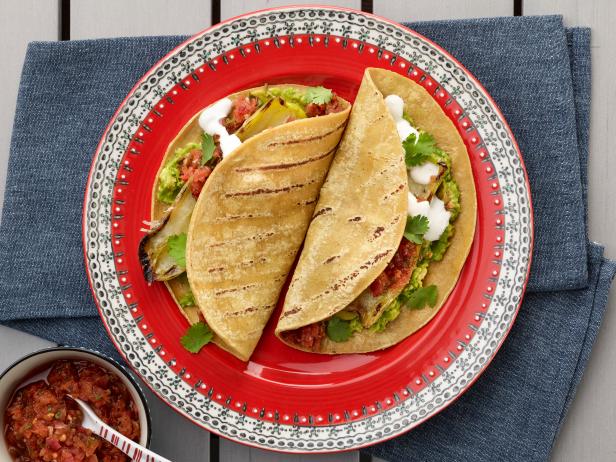 FNK_GrilledCheeseStuffedChileTacos_H
Chef Name: Food Network Kitchen Full Recipe Name: Grilled Cheese-Stuffed Chile Tacos Talent Recipe: FNK Recipe: Food Network Kitchen's Grilled Cheese-Stuffed Chile Tacos, as seen on Foodnetwork.com Project: Foodnetwork.com, SUMMER/APPETIZERS/PASTA Show Name: Food Network / Cooking Channel: Food Network
Renee Comet, 2013, Television Food Network, G.P. All Rights Reserved
Who says you can't have your very own fall fiesta on a Monday? If you're in a jovial mood and want to spice up your meal for a flavorful start to your week, try Grilled Cheese-Stuffed Chile Tacos (pictured above). You will not be disappointed. You'll also be surprised at how quickly you can make such a piquant meal, with the cook time being 15 minutes and the prep time just 10 minutes. Besides, you can't really go wrong with zesty ingredients like Cubanelle peppers, plum tomatoes, Monterey Jack cheese and cilantro.
There are a few steps to cooking this meal. Once the peppers, onions and tomatoes are cut and cleaned, drizzle oil and some salt over them. Grill the vegetables for about 6 minutes. Then, put the grilled tomatoes and onions, garlic, chipotles, cilantro, lime juice and salt into a food processor and mix together. Once that's completed, cut and scoop the avocados into a bowl and add lime juice and salt. Then, lightly mash the avocados.
Next, stuff the peppers with the Monterey Jack cheese. Place the peppers on an aluminum foil sheet in the grill and melt the cheese for about 4 minutes. Then, heat up the tortillas on the grill for about a minute. To complete the meal, spread the avocado on the tortillas, place the stuffed peppers on top and then add some salsa, sour cream and cilantro.
Meatless Monday, an international movement, encourages people everywhere to cut meat one day a week for personal and planetary health. Browse more Meatless Monday recipes.