Butternut Squash and Kale Stir-Fry — Meatless Monday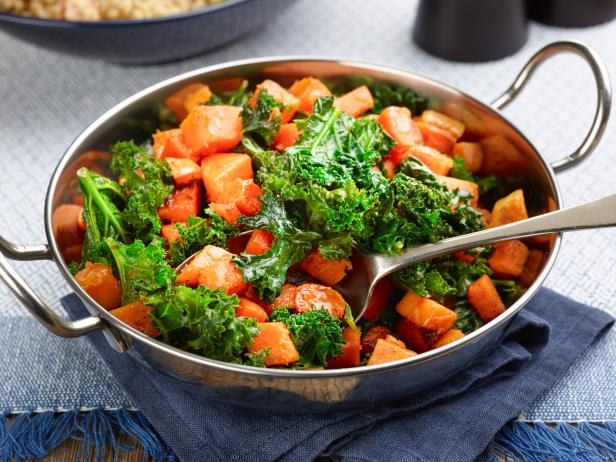 ReeDrummond_ButternutSquashandKaleStirFry_H
Chef Name: Ree Drummond Full Recipe Name: Butternut Squash and Kale Stir Fry Talent Recipe: Ree Drummond's Butternut Squash and Kale Stir Fry, as seen on The Pioneer Woman FNK Recipe: Project: Foodnetwork.com, Back to School/Sandwich Central/Dinner and a Movie/Sides Show Name: The Pioneer Woman Food Network / Cooking Channel: Food Network
Renee Comet, 2013, Television Food Network, G.P. All Rights Reserved
Sometimes, you just want to keep it simple on Monday. With The Pioneer Woman's Butternut Squash and Kale Stir-Fry, two popular ingredients of the moment — kale and butternut squash — are really all it takes to make your meal filling and flavorful. So for this Meatless Monday, you'll get an easy dose of vitamins without feeling like you're sacrificing taste or time. An added bonus to this dish? Its vibrant colors that make it just as good to look at as it is to eat.
First you'll heat butter and olive oil in a large skillet over high heat. Then add the squash, seasoning it with salt, chili powder and pepper. Cook the squash, turning it with a spatula, until it's deep golden brown and tender. Then take it out and set it aside on a plate.
Melt the remaining butter in the skillet over medium-high heat and add the kale. Toss the kale and let it cook for about 3 or 4 minutes. Then add in the squash and toss it together with the kale.
Meatless Monday, an international movement, encourages people everywhere to cut meat one day a week for personal and planetary health. Browse more Meatless Monday recipes.