Non-Pie Desserts That Will Take the Cake This Thanksgiving
Switch up your usual Thanksgiving dessert traditions by introducing sweet cakes to the spread with Food Network's must-have holiday recipes.
Apple, pumpkin and pecan pies — or a mashup of all three — are indeed no-fail options when it comes to Thanksgiving dessert, but if you're looking to dress up the feast this year with new takes on tradition, introduce a sweet cake to your after-dinner spread. Read on below for classic and creative holiday cake ideas from Trisha Yearwood, Ina Garten and more Food Network chefs, then check out the complete roundup of Top Thanksgiving Cake Recipes for more turkey day inspiration.
The key to making Trisha's Pineapple Upside-Down Cake (pictured above) is building the cake from the bottom up. What will eventually be the top of the cake — the sweetened pineapple and bright-red cherries — forms the base as the batter cooks in the oven; Trisha recommends letting the pan rest atop the inverted cake for minutes after flipping so the sweet syrup absorbs into the vanilla-scented batter.
A deep-dish showstopper filled with seasonal flavors, Ina's Easy Cranberry and Apple Cake (pictured above) comes together in just a few simple steps: Mix up a fragrant combination of fruit, cinnamon and citrus, then top it with a buttery sour cream batter before baking.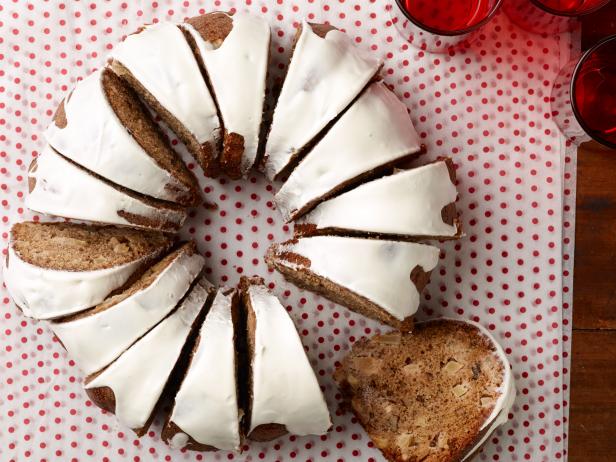 FNK_SpicedAppleWalnutCakeWithCreamCheeseIcing_H
Chef Name: Food Network Kitchen Full Recipe Name: Spiced Apple-Walnut Cake with Cream Cheese Icing Talent Recipe: FNK Recipe: Food Networks Kitchen's Spiced Apple-Walnut Cake with Cream Cheese Icing, as seen on Foodnetwork.com Project: Foodnetwork.com, FN Essentials/Weeknights/Fall/Holidays Show Name: Food Network / Cooking Channel: Food Network
Renee Comet, 2013, Television Food Network, G.P. All Rights Reserved
Put autumn's abundance of apples to work in Giada De Laurentiis' Spiced Apple-Walnut Cake with Cream Cheese Frosting (pictured above). Her moist Bundt cake is laced with the warm tastes of cinnamon, nutmeg and ginger, and blanketed with a rich frosting for over-the-top indulgence.
A triple-layer beauty that's as striking to look at as it is to indulge in, this Southern Red Velvet Cake (pictured above) is a holiday must-have. Opt for a topping of crushed pecans before serving to add welcome crunch to the dessert.