5 Easy Christmas Cookies Kids Can Make as Gifts
Your little ones can have a hand in gift giving this year by helping to make these easy holiday cookies.
To give our thanks to the volunteers at church, neighbors who always stop and ask how we're doing, and even the UPS driver who never rings the doorbell at naptime (bless you!), we've been looking for a few good cookie recipes this season. The requirements are simple: They must be easy enough for kids to make and sturdy enough to wrap as gifts. Here are our top five recipes that fill the bill:
Coconut Macaroons: These five-ingredient cookies are done in 35 minutes, and best of all, you can't mess up the presentation. Just put a mound of coconut mixture on a cookie sheet and bake.
Ina Garten's White Chocolate Bark: Put white chocolate in the microwave, spread it out, sprinkle on toppings and BREAK it up. Yes, my kids can do this, especially that last part.
Dried Apricot/Strawberry Jam Tarts: These easy-to-make cups are our preschoolers' wintertime favorites, both to make and to eat. They're low in sugar, plus the dough for the cups offers tons of options for boosting the nutrition a bit. We like to add chia seeds, ground flax seed or even a little wheat germ. If you've got anyone who's watching their sugar intake on your list, these are the treats to give.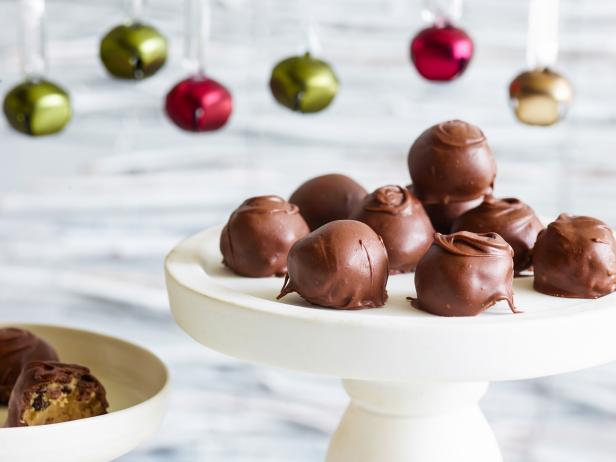 CHOCOLATE CHIP COOKIE DOUGH BALLS Trisha Yearwood Trisha's Country Kitchen/Chocolate, Chocolate, and More Chocolate Food Network Butter, Sugar, Dark Brown Sugar, Applesauce, Vanilla Extract, Allpurpose Flour, Baking Soda, Fine Salt, Semisweet Chocolate Chips, Dark Chocolate Wafers, ChocolateAlmond Bark
Matt Armendariz, 2014, Television Food Network, G.P. All Rights Reserved
Macadamia Coconut Cookies: Since this one starts with store-bought cookie mix, most of the work has already been done. Kids just add the flavor with melted butter, an egg, crunchy nuts and sweet coconut flakes.
Charity Curley Mathews is a contributor to The Huffington Post and the founder of Foodlets.com: Mini Foodies in the Making…Maybe. She lives in North Carolina with her husband, plus their four small kids, and dreams of someday getting the dishwasher unloaded before it's time to start making dinner again.