6 Ways to Enjoy Buffalo Chicken
From salads and subs to pizza and dip, learn all-new ways to celebrate the classic flavors of Buffalo chicken just in time for game day.
Game day may be about the football game first and foremost, but surely Buffalo chicken wings are a close second in importance. Sweet, spicy and saucy, the tried-and-true wings are tailgating must-haves, but the flavors of chicken and Buffalo sauce shine beyond the bone-in meat. From Ree Drummond's entree salad and Jeff Mauro's satisfying sub to Food Network Magazine's decadent mac and cheese, read on below to learn all-new ways to celebrate this classic football food.
Food Network Magazine's bold rendition of the beloved Buffalo wings is a no-fail crowd-pleaser. After a quick deep-fry, toss the golden-brown wings in a buttery hot sauce, and serve alongside a cooling blue cheese-sour cream sauce.
Follow Rachael's lead and take advantage of a welcome shortcut — store-bought pizza crust — to ensure that this easy pizza is ready in only 35 minutes. In place of a traditional tomato sauce, opt for a Worcestershire-spiked Buffalo sauce as the first topping, then add grilled chicken and crumbled blue cheese to create a winning pie.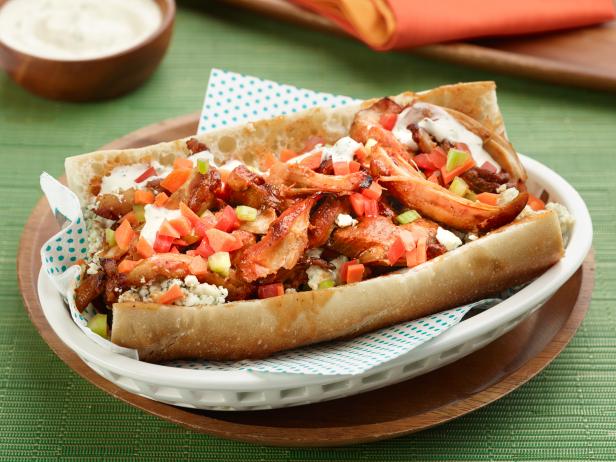 JeffMauro_BuffaloChickenSub_H
Chef Name: Jeff Mauro Full Recipe Name: Buffalo Chicken Sub Talent Recipe: Jeff Mauro's Buffalo Chicken Sub, as seen on The Best Thing I Ever Made FNK Recipe: Project: Foodnetwork.com, Back to School/Sandwich Central/Dinner and a Movie/Sides Show Name: The Best Thing I Ever Made Food Network / Cooking Channel: Food Network
Renee Comet, 2013, Television Food Network, G.P. All Rights Reserved
Jeff builds layer upon layer of flavor in his fuss-free sub by starting with a base of blue cheese directly on the bread and adding crispy Buffalo sauce-flavored chicken and a simple combination of fresh vegetables on top. He serves the sub with his Homemade Ranch Dressing on the side for a final note of indulgence.
A 5-star favorite with hundreds of fan reviews, Food Network Magazine's decadent casserole boasts all of the flavors of traditional Buffalo chicken wings, plus the richness of cheesy macaroni.
Built atop a bed of crunchy greens, The Pioneer Woman's hearty salad features juicy chicken bathed in hot sauce, plus a creamy blue cheese dressing. Perhaps best of all, this go-to salad is ready in a hurry.
Ideal for entertaining, this big-batch dip comes together entirely in the slow cooker and is surprisingly healthy, thanks to a few ingredient swaps, like reduced-fat cheeses and white-meat-only chicken.