11 Times a Chicken Breast Will Save the Day
Look to Food Network's favorite recipes featuring the humble chicken breast to come to your rescue for breakfast, lunch and dinner.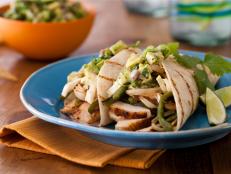 These aren't your average chicken tacos -- Bobby's sweet and spicy version is filled with grilled poblanos, barbecued onions and fresh coleslaw. Get the recipe now.