7 Ways to Put Peanut Butter and Jelly on More Than Just Bread
Think beyond the bread the next time a PB&J craving strikes and opt for a sweet treat like layered bars or filled cupcakes.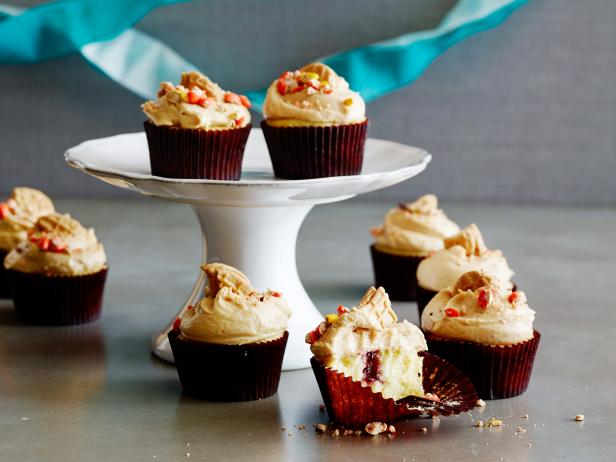 JELLYFILLED CUPCAKES WITH PEANUT BUTTER FROSTING Tyler Florence Food 911/Bake Sale Delights Food Network Baking Spray, Allpurpose Flour, Baking Powder, Fine Salt, Unsalted Butter, Sugar, Eggs, Vanilla Extract, Milk, Grape Jelly, Reese's Pieces, Butterfinger, Nutter Butter, Heath Bar, Peanut Butter, Cream Cheese, Confectioners Sugar
Matt Armendariz, 2014, Television Food Network, G.P. All Rights Reserved
Whether you grew up finding smushed PB&Js in your lunchbox or you've graduated to enjoying Jeff Mauro's next-level version (it's fried!) as a grownup, there's no denying that peanut butter and jelly are simply better together. But that doesn't mean the only way to enjoy these fan-favorite spreads is by slathering them on two slices of spread. From layered dessert bars and filled cupcakes to cool, creamy milkshakes, read on below for seven of the ultimate ways to mash up PB&J.
The secret to filling Tyler Florence's impressive cupcakes? Using a squeeze bottle to inject jam into the top of each treat.
Ina smoothes a sweet jam (she opts for raspberry, but you can use any flavor) atop a buttery peanut butter crust before finishing the bars with third and fourth layers: creamy peanut butter frosting and chopped nuts for welcome crunch.
Not all PB&J mash-ups are indulgent. Giada De Laurentiis' easy-to-make crepes from Food Network Magazine are surprisingly healthy, and perhaps best of all, they're ready to eat in a hurry.
It's all in the assembly in this wow-worthy tiramisu from Food Network Magazine. After building a two-part raspberry base and arranging ladyfingers on top, start the layering process: first more jam, then a fluffy peanut butter cream, fresh raspberries and finally more cookies before beginning the process again. It takes only 30 quick minutes to prepare the trifle, but it's best to let it chill for at least eight hours so the ladyfingers can soften and the flavors can marry, so be sure to plan ahead if you're entertaining.
Filled with fruit jelly, thick and airy peanut butter pudding, and sweetened whipped cream, these individual-serving desserts are built in prepared graham cracker crusts, so prep work is guaranteed to be a cinch.
Take a two-part approach to whipping up Food Network Magazine's frosty sipper. After blending an ice cream-peanut butter mixture, create a whirled combination of more ice cream plus grape juice and jelly, then combine the two mixtures in a glass for next-level flavor and texture.
After making a batch of creamy vanilla pudding, it's time to focus on the PB&J. Before serving, fold in chopped grapes, roasted peanuts and sweet peanut butter chips for a hassle-free treat.