The Beauty of Halloumi (and Other Melt-Resistant Cheeses)
Try frying non-melting cheeses like halloumi and paneer, or use them in place of their gooier counterparts on pizza.
Move over, brie. There's a new star player in the dairy aisle, and I'm not talking about Greek yogurt. Recently, firmer cheeses — such as halloumi, Indian paneer and Finnish bread cheese (leipäjuusto) — have been getting a lot of attention in the culinary world. And it's for good reason: Magically, they keep their shape when heated. Their high melting points and low acid content make them perfect for grilling and frying, which gives them that oh-so-desirable crispy brown crust (like in Michael Symon's Watermelon and Halloumi, pictured above). These melt-and-flow-resistant cheeses also star as a meal's main ingredient more readily than their silky counterparts. Here are a few ways to experiment with these cheeses at home.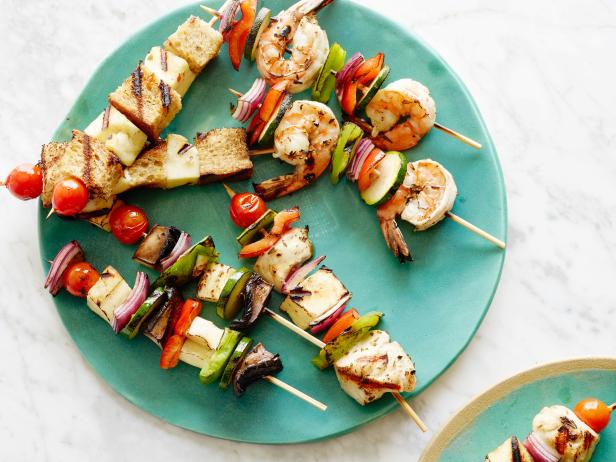 MAKE YOUR OWN KEBABS Keri Glassman The Food Network Blogpost Recipes/Mom and Dad with Specific "Diets" How Does That Affect Family Food Network Olive Oil, Lemon Juice, Rosemary, Thyme, Crushed Red Pepper, Sea Salt, Garlic, Chicken Breast, Whole Grain Bread, Portobello Mushrooms, Shrimp, Zucchini, Green and Red Bell Pepper, Red Onion, Cherry Tomatoes, Halloumi Cheese
Matt Armendariz, 2014, Television Food Network, G.P. All Rights Reserved
This fresh, firm cheese is Middle Eastern in origin and has a mild flavor similar to mozzarella. Typically made with a mixture of goat's milk and sheep's milk, it's remarkable in that no acid is required in its preparation. You've likely seen halloumi as an appetizer in Greek or Mediterranean restaurants, garnished according to tradition with mint to add flavor and act as a preservative. It makes a great addition to grilled kebabs, especially for vegetarians, since its substantial texture enables it to take the place of meat.
You may have encountered this unaged farmer's cheese in the form of saag paneer, a popular Indian dish with a thick spinach curry sauce, traditionally served with naan bread and basmati rice. The preparation of paneer differs from halloumi in that a small amount of acid — usually lemon juice, vinegar or yogurt — is added during the cheese-making process. The acid dissolves the calcium that normally binds the cheese proteins like glue, leaving the proteins free to clump together, thus helping maintain the cheese's structure when heated. Though the cheese-making science may sound complex, cooking with paneer at home is actually quite simple. Follow Aarti Sequeira's instructions for perfect results every time.
Start exploring the versatility of non-melting cheeses by incorporating them into some familiar dishes. Thanks to its firm texture, paneer makes a great pizza topping, substantial enough to stand up against the meaty prosciutto on Aarti's naan pizzas. While paneer often appears in dishes in larger pieces, it's just as desirable when crumbled by hand, as pictured above. A sweet, subtly spicy mango chutney makes the perfect accompaniment to the mild, crumbled cheese.