Giada's Easy Farro Salad — Meatless Monday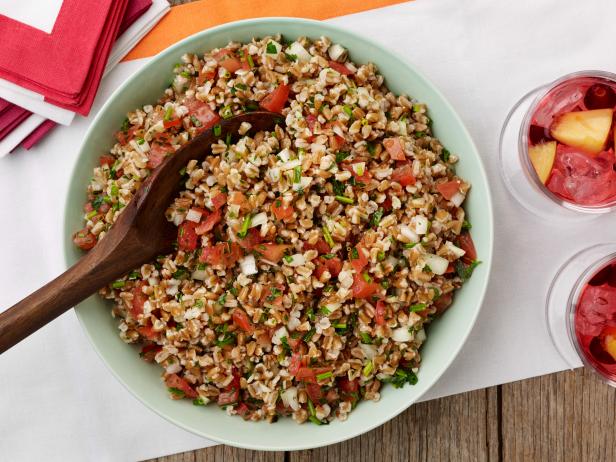 GiadaDeLaurentiis_FarroSaladWithTomatoesAndHerbs_H
Chef Name: Giada De Laurentiis Full Recipe Name: Farro Salad with Tomatoes and Herbs Talent Recipe: Giada De Laurentiis' Farro Salad with Tomatoes and Herbs, as seen on Food Network's Everyday Italian FNK Recipe: Project: Foodnetwork.com, CINCO/SUMMER/FATHERSDAY Show Name: Everyday Italian
Renee Comet, 2013, Television Food Network, G.P. All Rights Reserved.
Quinoa may be the ultimate superfood seed, but when it comes to versatile grains, farro — a hearty, chewy wheat — deserves its moment in the spotlight too. The beauty of farro is that, like quinoa and barley, it can be prepared once on its own, then kept on hand and mixed with your choice of add-ins to create an array of quick-fix salads.
Giada De Laurentiis starts with a batch of cooled farro, then adds to it fresh tomatoes and half a sweet onion for an Italian-focused salad (pictured above) that's a cinch to pull together. She opts for a duo of fresh herbs — chives and parsley — for a fragrant note, while a garlic-laced balsamic vinaigrette promises a tangy bite and a bold punch of flavor. Since this recipe can be assembled the night before (just let it come to room temperature before enjoying it), it's a go-to pick for make-and-take lunch salads.
Meatless Monday, an international movement, encourages people everywhere to cut meat one day a week for personal and planetary health. Browse more Meatless Monday recipes.