Cold Soba Noodle Salad with Creamy Sesame Dressing — Meatless Monday
Toast the sesame seeds for extra nutty flavor in Food Network Kitchen's Asian-inspired salad. Add creamy avocado, crisp cucumber and fresh corn for a variety of textures and bright colors.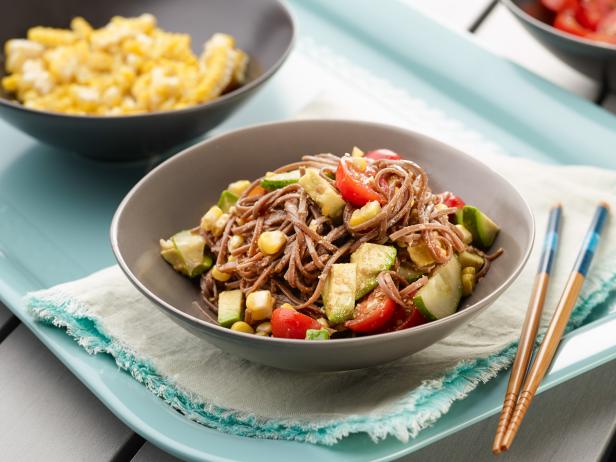 FNK_ColdSobaNoodleSaladWithCreamySesameDressing_H
Chef Name: Food Network Kitchen Full Recipe Name: Cold Soba Noodle Salad with Creamy Sesame Dressing Talent Recipe: FNK Recipe: Food Networks Kitchen's Cold Soba Noodle Salad with Creamy Sesame Dressing, as seen on Foodnetwork.com Project: Foodnetwork.com, SUMMER/APPETIZERS/PASTA Show Name: Food Network / Cooking Channel: Food Network
Renee Comet, 2013, Television Food Network, G.P. All Rights Reserved
During these sunny and sometimes sticky summer months, a refreshing meal can be just what you crave. And in the season where pasta and potato salad seems to be at every cookout and barbecue, it's the perfect time to try a new chilled recipe like Food Network Kitchen's Cold Soba Noodle Salad with Creamy Sesame Dressing (pictured above).
The secret to this dish is toasting the sesame seeds to deepen their natural nutty flavor. With just 4 to 5 minutes in a saute pan, these tiny seeds toast up quickly and are transformed with robust flavor. Food Network Kitchen purees the seeds in a blender with chile-garlic sauce, lemon and oil for a no-fuss creamy dressing with a subtle tang. Once the dressing is ready, drizzle it over spaghetti-like buckwheat soba noodles, which share a natural nuttiness with the sesame seeds. Lastly, top the noodles with a variety of fresh veggies. You'll get a slight sweetness and bright color from the corn, plus a heartiness from the creamy avocado. Add in cucumber for that crisp and refreshing crunch that makes this meal a delicious summer go-to.
Meatless Monday, an international movement, encourages people everywhere to cut meat one day a week for personal and planetary health. Browse more Meatless Monday recipes.