How to Use Up Your Big Bunch of Basil (Without Making a Caprese Salad)
Too much basil can be a good thing when you know how to use it.
Basil is summer's superstar herb, but too often it's confined to sprinkling over tomato dishes. And the bundles you find at farmers markets and many grocery stores can be massive — meaning that the caprese salad recipe that calls for 10 or so leaves hardly makes a dent in the big bunch you just bought. Too much basil, however, can be a good problem when you know how to use it.
In the September issue of Food Network Magazine, you'll find complete dinner menus that utilize the fragrant herb. The Thai-Style Basil Shrimp with Basil-Coconut Rice (pictured above) requires four cups of basil, for example. Browse through the rest of the magazine's basil-laden recipes along with more ideas to enjoy your stash.
Beef Tenderloin with Basil Crema Give beef tenderloin a seasonal spin with an avocado-basil crema. Instead of making a tomato and mozzarella side salad, toss juicy watermelon and crumbled Cotija cheese with basil and lime juice to enjoy alongside your main.
Roast Basil Chicken Whip together a big batch of basil butter and spread half all over spatchcocked chicken for roasting; toss the rest of the butter with warm baby potatoes. To round out your green-speckled meat-and-potatoes dinner, serve a zingy salad of frisee, plum, mustard vinaigrette and, you guessed it, basil.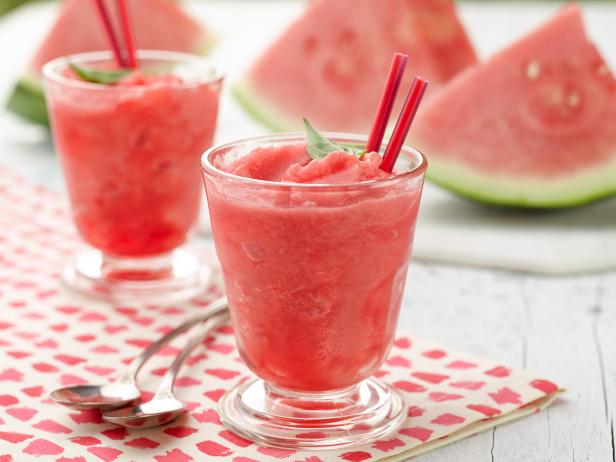 FNK_WatermelonLemonadeSlushie_H
Chef Name: Food Network Kitchen Full Recipe Name: Watermelon Lemonade Slushie Talent Recipe: FNK Recipe: Food Network Kitchen's Watermelon Lemonade Slushie, as seen on Foodnetwork.com Project: Foodnetwork.com, SUMMER/APPETIZERS/PASTA Show Name: Food Network / Cooking Channel: Food Network
Renee Comet, 2013, Television Food Network, G.P. All Rights Reserved
Watermelon Lemonade Slushie Meet your new favorite summer drink. Make it as often as you can, before watermelon goes out of season. Steeping the simple syrup with a full bunch of basil adds a subtle herbaceous note to each pink sip.
Potato Basil Frittata When planning your brunch menu, you can always count on Ina Garten. For your next summer soiree, make a frittata. Filled with potatoes, ricotta, Gruyère and basil, it's a one-pan egg dish that will please and satisfy a crowd.
Basil Pesto Pesto is probably a more obvious choice, but it's one of the best. This 5-star recipe with classic ingredients will not steer you wrong. Instead of topping pasta with the fresh green sauce, try pesto with pizza, grilled chicken or even potato salad. Find more great ideas here.