No Fridge Necessary: 5 Ways to a Fresher Lunchbox
Renee Comet, 2015, Television Food Network, G.P. All Rights Reserved
With another summer heading toward its end, it's time to start thinking about lunchbox-friendly foods — namely, foods that can withstand a morning without refrigeration. Insulated lunchboxes do their part to keep meals fresh, as do ice packs. But ice packs are heavy, and they tend to go missing. A few judiciously frozen items can do double duty, keeping your lunchbox cold while slowly thawing in time to eat. Frozen water bottles, or frozen packs of applesauce or yogurt, should do the trick. But as a general rule, it's best to steer clear of meat and dairy if you can't guarantee refrigeration. Just in time for another school year, here are some no-fridge foods that kids — and adults — can look forward to opening.
Lunchtime feels eons away without a midmorning snack to hold you over, and trail mixes, granola bars and cereal treats are all tasty fuel sources. Food Network Kitchen's Honey-Nut Cereal Treats (pictured above are loaded with protein and fiber in the form of peanuts and almonds.
If your kids appreciate sweet and chewy dried fruits, try Claire Robinson's easy Pumpkin Seed-Dried Cherry Trail Mix. Alton Brown's classic rendition of crunchy Granola Bars is another snack you can feel good about packing. This lower-calorie option studded with sliced almonds, dried apricots and berries. Before you pack any of these in your child's lunchbox, err on the side of caution and make sure no one in the class has a nut allergy.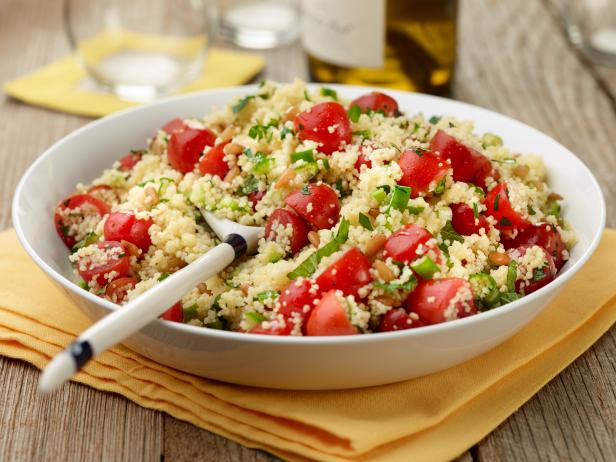 FNK_CouscousSaladWithTomatoesAndMint_H
Chef Name: Food Network KitchenFull Recipe Name: Couscous Salad with Tomatoes and MintTalent Recipe: FNK Recipe: Food Network Kitchen's Couscous Salad with Tomatoes and Mint, as seen on Food NetworkProject: Foodnetwork.com, CINCO/SUMMER/FATHERSDAYShow Name: How to Boil Water
Renee Comet, 2013, Television Food Network, G.P. All Rights Reserved.
Most veggies fare pretty well away from the fridge for a few hours. But then again, most kids won't be too happy upon opening a container full of lettuce. Keep it interesting (and appetizing) with noodle- or grain-based salads. If you get the green light on peanuts, try Ina Garten's Crunchy Noodle Salad. This hearty mix of thin spaghetti and chopped vegetables coated in a savory sauce will easily tide your kids over until dinnertime.
You knew it was coming. But really, what could be easier than tossing hearty fillers into a pita, tortilla or wrap, and then rolling it up for later? Save meat and sour cream for days when you know there will be a fridge in sight. This vegetarian Brown Rice and Bean Burrito (pictured above) is plenty filling without those perishables. Ellie Krieger's Hummus and Grilled Vegetable Wrap is another low-calorie option for kids who aren't scared off by the sight of zucchini or bell pepper.
Whole fruits like bananas and oranges are guaranteed to stay fresh throughout the morning, but for a more exciting fruit experience, try Ellie's Radiance Fruit Salad (pictured above), packed with sweet cantaloupe, kiwi and strawberries.
If you're attempting to mollify to a picky eater who shuns fruits and vegetables that are in plain sight, you can make fiber more appealing by packing one of Melissa d'Arabian's Magic Fruit and Veggie Cupcakes sweetened with brown sugar. These cupcakes have a dense, springy texture, thanks to the whole-wheat flour and oats, and the finely grated veggies will go virtually undetected. Sneaky, sneaky.
Matt Armendariz, 2014, Television Food Network, G.P. All Rights Reserved
Unlike cream-based dips, hummus can withstand a few hours in a lunchbox or locker and still retain its freshness. Katie Lee's Classic Hummus (pictured above) is for anyone who loves the traditional combination of chickpeas, tahini, garlic and lemon juice.
For an ultra-healthy spin on the classic, try Food Network Kitchen's Edamame Hummus and see how the kids respond to the smooth, pureed beans. Melissa d'Arabian's Black Bean Hummus is another beautifully rich and creamy option, sans any actual dairy. All three go great with sliced vegetables or pita chips for dipping.