Mushroom Wellington with Creamy Carrot Sauce — Meatless Monday
This impressive Wellington delivers the striking, holiday-worthy appearance and flavor you crave.
The roasted turkey, the glazed ham, the standing rib roast, the rack of lamb — there are many ways to make meat the star of your holiday spread, while the veggies often get relegated to the side-dish selection. But that doesn't have to be the case. Enter this mushroom-instead-of-beef Wellington.
While traditional beef Wellingtons may feature a tenderloin in the center, Food Network Magazine's Mushroom Wellington with Creamy Carrot Sauce swaps that out and replaces it with a combination of hearty, earthy portobellos and shiitakes. Scented with fresh thyme and a splash of white wine, this filling is full of flavor as well as meaty and substantial. Just like the classic version, this one too features a golden-brown, flaky puff pastry shell to hold the filling, which gives it the striking, holiday-worthy appearance you crave.
To round out the meal, opt for a simply dressed frisee salad, and pair the Wellington with a smooth carrot sauce, laced with cream cheese for subtle tang.
Meatless Monday, an international movement, encourages people everywhere to cut meat one day a week for personal and planetary health. Browse more Meatless Monday recipes.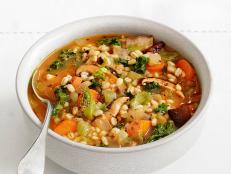 Best of all, this stew from Food Network Magazine doesn't need to time to stew on the stove all day; it's ready in just 40 minutes, making it a weeknight pick.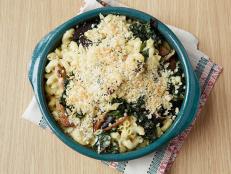 Check out Food Network Kitchens' recipe for Creamy Baked Macaroni and Cheese with Kale and Mushrooms for an easy-to-make Meatless Monday dinner.