A Complete Christmas Dinner Menu Full of the Fastest Recipes Around
Check out this at-the-ready menu of all-star dishes that will wow your guests this holiday season.
Christmas is only a few days away, and if you've been tasked with hosting at the last minute, or if you've simply been procrastinating making a menu for the holiday dinner while you focus on gift shopping (and wrapping) and cookie baking (and eating) instead, you're in luck. It's not too late — even if your plan is to entertain on Christmas Eve. Below is a complete, at-the-ready menu of dishes that will take you and your party guests from bite-sized appetizers to a comforting first-course pasta to a meaty braciole, all the craveable side dishes and, of course, a sweet ending of chocolatey cookies. Best of all, each recipe can be ready in hurry — just 45 minutes or less.
The key to appetizers during the holidays is to make them hearty enough to satiate your guests when they walk in the door, but not so rich that everyone fills up on them before the main dish is served. Shrimp is a go-to choice, and this easy scampi is a top-rated favorite, laced with bright lemon and fresh parsley.
Sweet, smoky and plenty crunchy, the nuts in Ina Garten's recipe, featured in Food Network Magazine, can be prepped and kept for up to a week before serving, so you could make them today to get a jump-start on meal prep.
Pancetta, sausage and a ground trio of beef, pork and veal make up the meaty mixture in Rachael Ray's red wine-spiked pasta sauce, which she says is best topped with nutty Pecorino Romano cheese.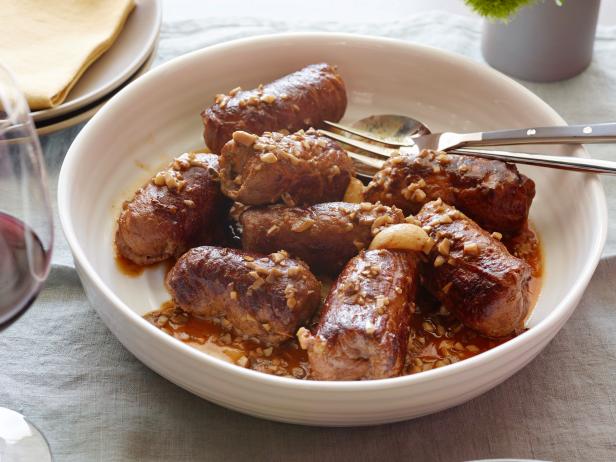 MY MAMA'S BRACIOLE Rachael Ray 30 Minute Meals/Fast Track To Family Time Food Network Beef Braciole, Salt, Pepper, Prosciutto di Parma, Plain Bread Crumbs, Milk, ParmigianoReggiano, Onion, Flatleaf Parsley, Arugula, Toothpicks, Olive Oil, Garlic, Butter, Crimini Mushrooms, Flour, Dry White Wine, Beef Broth, Tomato Paste
Matt Armendariz, 2014, Television Food Network, G.P. All Rights Reserved
When it comes to what Rachael calls My Mama's Braciole, it's all about the stuffing. She layers a slice of prosciutto on top of thinly sliced beef, then piles on a cheesy breadcrumb mixture before rolling up the braciole. She sears the meat to achieve a crispy crust on the outside, then lets it simmer in a buttery mushroom-wine sauce so it absorbs those savory flavors.
All it takes is a handful of ingredients to make The Pioneer Woman's fuss-free side dish. The secret to her sprouts is the balsamic reduction, which she makes by reducing the vinegar with sugar until it turns a thick, syrupy consistency.
Creamy and garlicky, Tyler Florence's vibrant spinach boasts that oh-so-important bit of nutmeg, which rounds out the flavors.
Christmas cookies need not be complicated to wow your guests, as Ree Drummond proves with these chocolate-focused beauties studded with both white chocolate and semisweet chocolate chips.