It's Never a Bad Time for Chili: 6 Warming Recipes
No matter if you're digging out from this weekend's wintry wallop or simply looking for a cozy dish to transform your Sunday supper, chili is the answer to all of your must-get-warm-right-now needs. Not only is chili packed with hearty meat and beans, but it's also simple to prepare: Just layer the ingredients in a pot and let it all simmer until the flavors become one savory meal. Check out Food Network's best chili recipes, below, each an easy how-to sure to help you beat winter's blustery chill.
Thanks to a base of apple-wood-smoked bacon and a spice blend featuring chili powders, ground cumin and smoked paprika, there's no shortage of bold flavors in this top-rated recipe, made extra hefty by two kinds of ground meat: beef and pork.
With a high rating and nearly 500 fan reviews, you can be sure that Ina Garten's classic chicken chili is a tried-and-true winner. She notes that while you can serve the chili right after prepping it, you can also keep it on hand in the refrigerator and simply warm it up later.
"Masa is corn flour, and it thickens the chili and adds a great corn flavor," The Pioneer Woman explains of the addition of masa harina in her go-to recipe.
Think you don't have the time to devote to chili? Think again, because this quick-fix staple can be done on even the busiest of weeknights. "Add cilantro, sour cream, tortilla chips or avocado for a traditional Mexican garnish," the chefs in Food Network Kitchen note.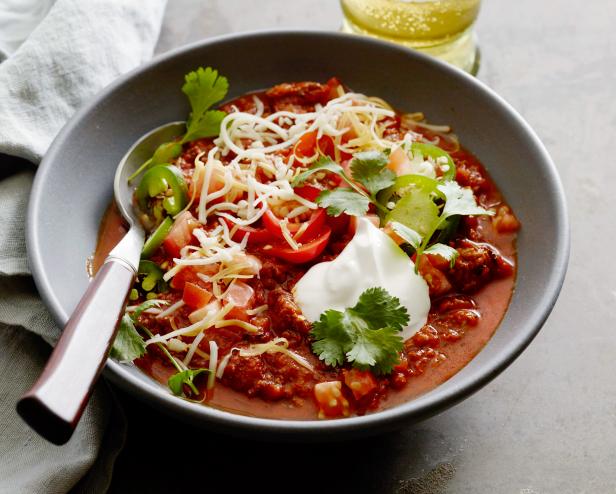 GAME DAY CHILIGeoffrey ZakarianThe Kitchen/The Big GameFood NetworkOlive Oil, Ground Meat, Garlic, Onions, Scallions, Tomato Paste, Chile Powder, Dark Beer,FireRoastedTomatoes, Chicken Stock, Red Hot Sauce, Greet Hot Sauce,GAME DAY CHILI Geoffrey Zakarian The Kitchen/The Big Game Food Network Olive Oil, Ground Meat, Garlic, Onions, Scallions, Tomato Paste, Chile Powder, Dark Beer, FireRoasted Tomatoes, Chicken Stock, Red Hot Sauce, Greet Hot Sauce
Matt Armendariz, 2014, Television Food Network, G.P. All Rights Reserved
When it comes to picking out the ground meat base for Geoffrey Zakarian's tailgate-ready recipe, he leaves the decision in your hands: ground beef chuck, pork shoulder or veal shoulder. He guarantees a punch of flavor in the broth of his chili by stirring in a duo of hot red and green sauces.
Meat-free folks, we have a standout chili recipe for you, too — but carnivores, you'll want to check this one out as well. Laced with a chipotle chile pepper in adobo sauce and built with satisfying pinto beans, Food Network Magazine's big-batch chili is spiked with a splash of brewed coffee for the fullest flavor possible.