Reinvent Pasta Night with These 9 Quick Recipes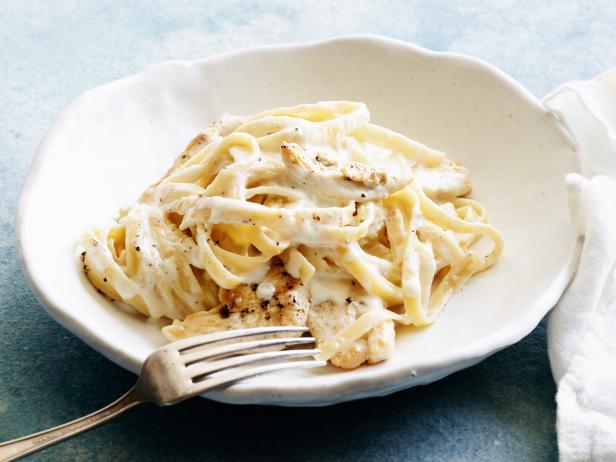 FNK CHICKEN FETTUCINE ALFREDO **Comfort Food/Cozy VibeFood Network KitchenFood NetworkKosher Salt, Fettucine, Olive Oil, Chicken, Unsalted Butter, Heavy Cream, Nutmeg,ParmigianoReggianoCheese,FNK CHICKEN FETTUCINE ALFREDO **Comfort Food/Cozy VibeFood Network KitchenFood NetworkKosher Salt, Fettucine, Olive Oil, Chicken, Unsalted Butter, Heavy Cream, Nutmeg,ParmigianoReggianoCheese
Matt Armendariz, 2014, Television Food Network, G.P. All Rights Reserved
One of the many lessons I learned about food while living in Italy was simple: Pasta night does not have to mean spaghetti with red sauce. Think quick pan sauces with bacon or lemon juice, or cheesy baked pasta casseroles instead. These are nine simple, delicious ways to branch out in the world of pasta.
25 minutes and a handful of ingredients — that's all it takes to put together this creamy, dreamy pasta.
Want a twist on your basic spaghetti and red sauce? Try a light and airy version from Giada De Laurentiis, dripping in olive oil and fresh lemon juice and dusted with cheese.
When you want a fast sauce, reach for goat cheese. It melts down beautifully, especially when it's swirling in chicken broth with a splash of white wine vinegar.
There's a little magic at work here. Fresh lemon juice and a simple pan sauce turn rotisserie chicken into one of my favorite meals from Rome — the one I ordered every time we went to our neighborhood trattoria, for four years straight.
"Inexpensive" and "easy" are two favorite words for every busy parent, and both apply to this recipe. One can of beans meets warm pasta and a jar of pesto. Consider squeezing a fresh lemon on top, but don't skip the grated Parmesan cheese.
Fresh baby spinach combined with a handful of nuts, olive oil and a bit of cheese makes the base for Food Network Magazine's knockout, veggie-already-included meal that your kids will love.
Hear me out on this one, because this underdog may just turn into your family's favorite dinner. Cooking cauliflower until it's browned gives the edges that sweet crispiness no one can resist. And when you pair it with grated cheese? Come on. Just be sure you have enough for seconds. And thirds.
Pasta night doesn't even have to mean Italian night. These Asian flavors pair perfectly with the nutty taste of whole-wheat pasta. No sugar snap peas available? Substitute frozen peas, asparagus, broccoli or zucchini.
This was one of the first pasta dishes I mastered while living in Italy — and there's not a tomato in sight. Just crispy pancetta, green peas and a swirl of white wine to cut through the salty pork. One of my favorites of all time.
Charity Curley Mathews is a mother of four small kids who'd devour every one of these. She's a contributor to InStyle, eHow and Huffington Post, and founder of Foodlets, a site about teaching kids to love good food, with simple recipes plus tried-and-true tips for pulling it off. Most of the time.
These quick, simple pasta recipes from Food Network make go-to dinners to enjoy the night before Thanksgiving.