5 Ways Peas Are Better with the Italian Treatment
If winter was the time for stick-to-your-ribs meat sauces, hearty layered lasagnas and other forces of Italian-made comfort, spring is the time for dishes with a much fresher inclination. And if there's anything that screams "spring" above all else, it's peas.
This week, we're celebrating the season by giving peak-season peas the Italian treatment in pea-centric sides, pasta dishes and more. Though many of these recipes call for frozen peas, go the fresh route instead. 'Tis the season, after all.
Giada De Laurentiis combines peas with an Italian mainstay, prosciutto, for the epitome of a fresh springtime side. Her recipe for Peas and Prosciutto is a stunner when served beside any main dish, and it takes just 18 minutes to prep.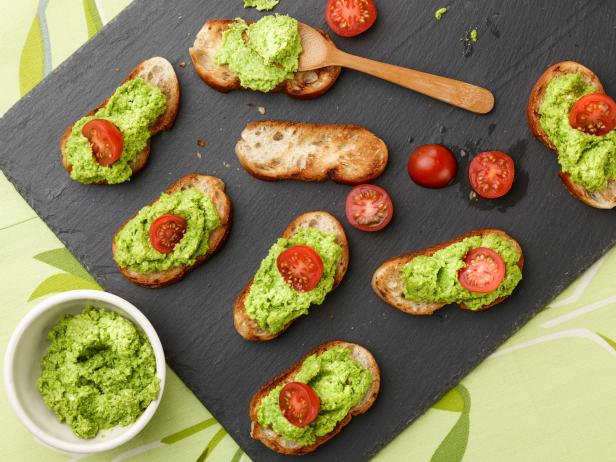 GiadaDeLaurentiis_PeaPestoCrostini_H
Chef Name: Giada De LaurentiisFull Recipe Name: Pea Pesto CrostiniTalent Recipe: Giada De Laurentiis' Pea Pesto Crostini, as seen on Foodnetwork.comFNK Recipe: Project: Foodnetwork.com, SUMMER/APPETIZERS/PASTAShow Name: Food Network / Cooking Channel: Food Network
Renee Comet, 2013, Television Food Network, G.P. All Rights Reserved.
With a little love from your food processor, peas, garlic and Parmesan can become a simple, spreadable pesto that is glorious when spread over crusty bread for Pea Pesto Crostini.
Served at room temp as a pasta salad, Ina Garten's Pasta, Pesto and Peas amps up the green factor by combining garlicky, herbaceous pesto with peas, and will undoubtedly be the freshest side dish at any picnic or cookout you take it to.
Though it could be eaten as a main dish, Giada's Red Wine Risotto with Peas also works as a creamy, satisfying side dish. Add the peas and fresh Italian parsley at the very end of cooking so they retain their vibrant freshness.
The easiest way to give peas the Italian treatment is by finishing off a simply cooked side of them with quality grated Parmesan cheese. Parmesan Peas take just 15 minutes to make, and they're extra-bright thanks to a good squeeze of fresh lemon juice.