Farro with Cheese and Herbs — Meatless Monday
I'd like to introduce you to your new favorite grain, farro.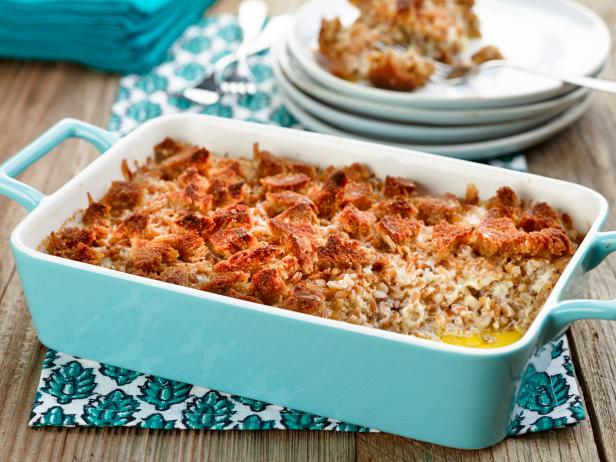 GiadaDeLaurentiis_FarrowithCheeseandHerbs_H
Chef Name: Giada De Laurentiis Full Recipe Name: Farro with Cheese and Herbs Talent Recipe: Giada De Laurentiis' Farro with Cheese and Herbs, as seen on Giada at Home FNK Recipe: Project: Foodnetwork.com, Back to School/Sandwich Central/Dinner and a Movie/Sides Show Name: Giada at Home Food Network / Cooking Channel: Food Network
Renee Comet, 2013, Television Food Network, G.P. All Rights Reserved
I'd like to introduce you to your new favorite grain, farro. Similar in taste and texture to barley, this hearty Italian ingredient is prepared just as you'd make rice, by boiling it, and is a culinary blank canvas of sorts — you can pair it with countless other flavors, just as you can quinoa or couscous. While you can indeed make a batch of farro while you're planning the week's meals on Sunday and count on it starring in simple salads for a few days thereafter, you can also turn the heat up on farro and serve it in a hot casserole, as Giada De Laurentiis has done in her recipe for Farro with Cheese and Herbs.
This macaroni-and-cheese-like dish uses farro in place of traditional noodles, and pairs it with a duo of ooey-gooey cheeses — extra-sharp cheddar and creamy mozzarella — for rich, melty results. Giada notes that when you're cooking the farro, you can test for doneness the way you would pasta; you'll know it's ready when it's got that al dente bite. Once the grains are ready, it's all about quick tossing and assembly. Just mix up the farro with the cheeses, flavor it with fragrant herbes de Provence and pile it into the baking dish. For a welcome crispy-crunchy finish, Giada blankets thick-cut bread cubes atop the hearty dish before moving it to the oven.
Meatless Monday, an international movement, encourages people everywhere to cut meat one day a week for personal and planetary health. Browse more Meatless Monday recipes.