6 No-Cook Pasta Sauces That Take the Sweat Out of Dinner
You'll want these no-cook pasta sauces on hand when the temperature reaches an all-time high.
Here at Food Network, we're constantly dreaming up new ways to survive summer heat waves without relying on cold salads for every meal. Our best solution so far? No-cook pasta sauces. And it's not just because they reduce the amount of time spent cooking over heat — though it is a huge plus. It's because a good, raw sauce must add up to more than the sum of its parts. In most cases, that means the absolute freshest and most perfectly ripe ingredients. From light, clean-tasting pesto to juicy tomato sauce with olives and mint, here are six of our favorite ways to dress up pasta in the summertime.
When it comes to no-cook pasta sauces, basil is king. This simple, seasonal mixture of basil, garlic, pine nuts, olive oil and salty pecorino comes together in just five minutes in your food processor, no flame required. Even though it feels like a shortcut recipe, it certainly doesn't taste like one.
Ina Garten's earthy green pesto sauce looks just like the traditional stuff, but it's actually made using a mixture of peas and spinach. Using frozen peas and chopped spinach will cut down on prep work so you can spend less time in the kitchen.
Pulsing jarred sun-dried tomatoes and their oil in a food processor is all it takes for a tangy, flavorful pesto. Toss the finished sauce with cooked penne for a light and seasonal summer pasta dish.
Melissa d'Arabian serves delicate angel hair pasta with a no-cook "salsa cruda" of ripe tomatoes, olives, mint, garlic, red pepper flakes, orange zest and capers. All you have to do is boil the pasta and toss it all together.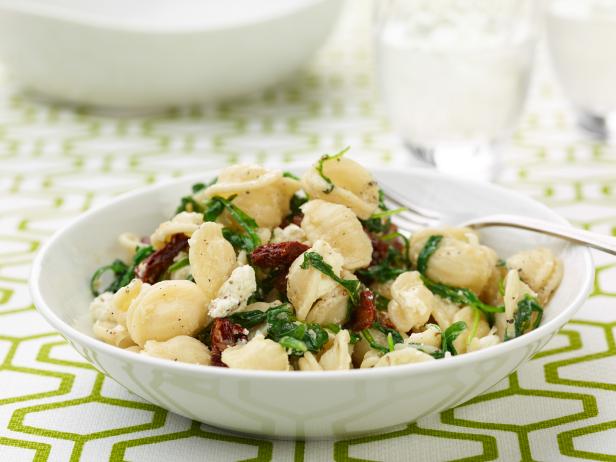 GiadaDeLaurentiis_OrecchietteWithMixedGreensAndGoatCheese_H
Chef Name: Giada De Laurentiis Full Recipe Name: Orecchiette with Mixed Greens and Goat Cheese Talent Recipe: Giada De Laurentiis' Orecchiette with Mixed Greens and Goat Cheese, as seen on Food Network's Everyday Italian FNK Recipe: Project: Foodnetwork.com, CINCO/SUMMER/FATHERSDAY Show Name: Everyday Italian
Renee Comet, 2013, Television Food Network, G.P. All Rights Reserved.
Cooking for one? Flavorful ingredients like goat cheese and sun-dried tomatoes make for an exciting, perfectly portioned single serving. Best of all, the "sauce" comes together simply by tossing the warm orecchiette with the cheese, the greens and a little bit of reserved pasta water.
The juice from capers and Kalamata olives lends hollow bucatini pasta loads of briny flavor. No need to turn on another stovetop burner when preparing the sauce — mix it all together in one bowl, then toss in the cooked pasta with a few pats of butter.