Perfect Your Potato Game: 4 Non-Mashed Potato Dishes to Try
Whether you have family gatherings or Friendsgiving planned, mashed and smashed potato dishes will likely make it onto your table — possibly even for days following the big feast. Since mashed potatoes get more than their fair share of attention during this season, we're shining a light on some non-mashed potato dishes that deserve a place on your dinner table.
If there were ever such a thing as a potato league, we think these spuds would be named MVP. Hasselback potatoes are easy to make, look great and, above all, taste amazing. It takes only a few extra knife cuts to transform a basic baked potato into this cover-worthy dish. By making thin slices into the potato, but not cutting all the way through, you get crispy edges on top of a fluffy interior. Keep the dish simple with Ree Drummond's recipe for Hasselback Potatoes (pictured above) using russet potatoes and a topping of butter, olive oil and chives.
Scalloped potatoes can be a comfort food delight on par with mac and cheese. As the dish bakes, the layers of thin potato slices simultaneously soften, soak in the cream sauce and meld together. The potatoes marry well with rich, cheesy flavors, like in this Four-Cheese Scalloped Potatoes recipe, which calls for mozzarella, Asiago, Raclette and Parmesan.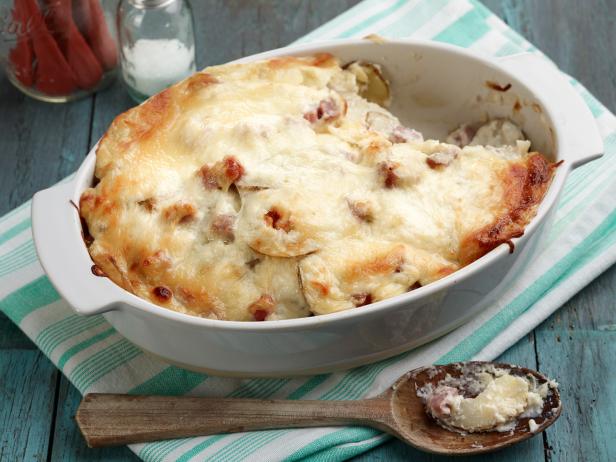 ReeDrummond_ScallopedPotatoesandHam_H
Chef Name: Ree DrummondFull Recipe Name: Scalloped Potatoes and HamTalent Recipe: Ree Drummond's Scalloped Potatoes and Ham as seen on The Pioneer WomanFNK Recipe: Project: Foodnetwork.com, Back to School/Sandwich Central/Dinner and a Movie/SidesShow Name: The Pioneer WomanFood Network / Cooking Channel: Food Network
Renee Comet, 2013, Television Food Network, G.P. All Rights Reserved
Made using a classic ham-and-cheese combo, Ree's Scalloped Potatoes and Ham features everyday flavors in a comforting casserole filled with an onion-based white sauce.
The phrases "scalloped potatoes" and "potatoes au gratin" are sometimes used interchangeably, though "scalloped" and "gratin" refer to different aspects of the dish — scalloped potatoes are layered in a creamy sauce, while a gratin has a crispy cheese or breadcrumb topping. Food Network Magazine's Garlic Potato Gratin is a gratin through and through, with a chicken broth base and a breadcrumb mixture scattered on top and throughout the mass of savory flavors.
If you've had enough of casseroles, you can mix things up with a pie pan for Melissa d'Arabian's Potato-Bacon Torte. This savory pie has a buttery homemade crust and layers of potato and crispy bacon in a thyme-infused cream base.