5 Recipes to Make This Weekend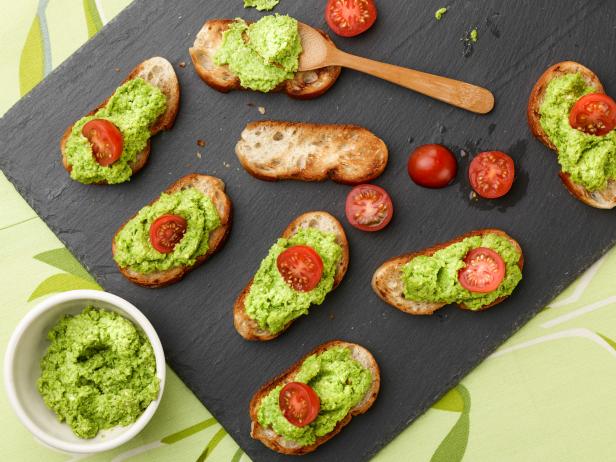 GiadaDeLaurentiis_PeaPestoCrostini_H
Chef Name: Giada De Laurentiis Full Recipe Name: Pea Pesto Crostini Talent Recipe: Giada De Laurentiis' Pea Pesto Crostini, as seen on Foodnetwork.com FNK Recipe: Project: Foodnetwork.com, SUMMER/APPETIZERS/PASTA Show Name: Food Network / Cooking Channel: Food Network,Chef Name: Giada De Laurentiis Full Recipe Name: Pea Pesto Crostini Talent Recipe: Giada De Laurentiis' Pea Pesto Crostini, as seen on Foodnetwork.com FNK Recipe: Project: Foodnetwork.com, SUMMER/APPETIZERS/PASTA Show Name: Food Network / Cooking Channel: Food Network
Renee Comet, 2013, Television Food Network, G.P. All Rights Reserved.
On weeknights, we just want to get dinner done, the sooner the better. On the weekend though, we're ready for a challenge – dishes our friends and family will be talking about for weeks to come. Here are 5 recipes to help you show your cooking prowess.

If you're planning a multi-course menu, keep things easy for the appetizer round with a light and bright starter. The 12-minute recipe features a simple pesto with peas, garlic, Parmesan and olive oil.
Take stuffed mushrooms to the next level with portobellos. In this vegetarian-friendly recipe, the meatiest of mushrooms is stuffed with poblano peppers, scallions, parsley, mozzarella and wheat germ for a flavorful blend in every bite.

For the main dish, make Giada De Laurentiis' 5-star recipe for osso buco, which are veal shanks braised in a flavorful sauce of white wine, vegetables, tomato paste, chicken stock and a bouquet garni of rosemary, thyme, bay leaf and cloves.

Go rustic with a show-stopping tarte tatin, a French upside-down pastry. This savory take on the dish is made with earthy root vegetables, which are roasted and baked into a layer of caramel and puff pastry.
Cookies might seem commonplace but trust us when we say everyone at the dinner table will be more than delighted when you bake and serve this supersized version in a skillet.