Whether you're rushing to assemble dessert for a dinner party or just sitting around at home with chocolate on your mind, you're guaranteed to find a brownie that suits your needs somewhere on our shortlist.
People tend to have strong opinions on what separates a good brownie from a damn good brownie. Is it a soft, gooey center? A dash of espresso powder — to really make the chocolate sing? Maybe it's the density of the corner pieces, prized for their thick and chocolatey crust. Sometimes our opinions change depending on our mood, and when it comes to selecting the right recipe for a particular moment, timing and setting are everything. So, whether you're rushing to assemble dessert for your best friend's dinner party or just sitting around at home with chocolate on your mind, you're guaranteed to find a brownie that suits your needs somewhere on this shortlist.
Laced with espresso then finished with a buttery caramel glaze, Giada De Laurentiis' bite-sized brownies will cut a striking figure on the buffet table at the next birthday party or holiday gathering on your calendar. And yes, you read the ingredients list correctly: These do call for a box mix. Shhh.
Looking for a dessert that can survive a couple of hours in your lunch bag? Many will emerge from their packaging dry and crumbly by afternoon, but Trisha Yearwood's marbled creation certainly won't. The toothsome top layer of cream cheese pairs perfectly with the dense, fudgy base.
There are very few wounds these snow-kissed brownies can't mend. Show up at the door with a heaping tray, each square bursting at the seams with smooth caramel sauce, and you'll be quickly forgiven.
Everybody knows the pan edges are the best part of any brownie, and with Ina Garten's skillet-baked recipe, you get 360 degrees of crispy-crunchy goodness. Cut the whole thing up into triangles and serve it just like you would a pie slice — with a generous scoop of vanilla ice cream on top.
Bookmark Ree Drummond's Three-Ingredient Brownies for those day when time is not on your side. Out-of-this-world moist thanks to a hefty dose of Nutella, no one will ever know you spent less than 10 minutes preparing the batter.
Outrageous Brownies
03:20
Ina explains why you need to whack these brownies halfway through baking.
With 5 stars and nearly 700 hundred reviews, it's unanimous: Ina's Outrageous Brownies are going to hit the spot, no matter the date, time or occasion.
Let's be clear: You definitely don't need an excuse to bake brownies. In fact, some recipes are best savored solo. Exhibit A: Ina's indulgent Brownie Pudding. Crack through the firm chocolate surface with your spoon, then dig down to the bottom for a scoop of the rich, molten chocolate.
Check out more irresistible brownies recipes from your favorite Food Network chefs.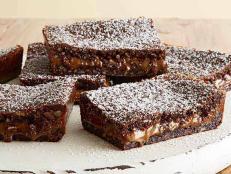 Make your next batch of brownies even better with add-ins, swirls and genius baking techniques.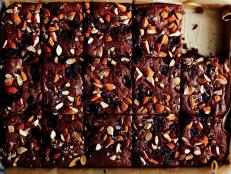 Bake these delicious vegan Almond Butter and Sea Salt Brownies from Healthy Eats.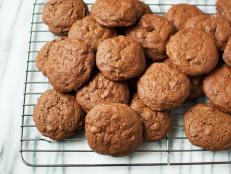 Trisha Yearwood's Brownie Batter Cookies are dense, rich and a chocolaty bite of cookie pleasure. Get the recipe.