7 Ree Drummond Recipes You Won't Want to Miss This Spring
Revered by her fans as their one-stop source for all things meaty and cheesy, The Pioneer Woman's simple approach to wholesome, family-style cooking has secured her place as one of the heavy hitters in Food Network's arsenal of most-saved recipes. If you haven't already, be sure to bookmark Ree's 5-star Perfect Pot Roast and Twice-Baked Potatoes for next year's frigid winter nights — and in the meantime, you can move her collection of celebratory spring recipes to the top of your must-cook-now list.
Though big-batch comfort food is her specialty, Ree applies her casual, home-style cooking methods to vibrant spring produce, too. From eggy frittatas studded with chopped asparagus to fluffy golden cake layered with fresh strawberries, here are a few of her best dishes to try this season.
You can feed a party of 8 with Ree's vibrant primavera — a medley of spring vegetables tossed with al dente fettuccine and a garlicky Parmesan sauce.
In search of some simple sides for your dinner spread? Look no further than Ree's Roasted Asparagus. She skips all of the traditional (and heavy) garnishes, like bacon and hollandaise sauce, in favor of salt, pepper and little bit of olive oil, letting the vegetable's earthy flavor really shine through.
Got leftover asparagus? This festive brunch dish is packed with some chopped spears, along with mushrooms, onions, potato, peppers and olives.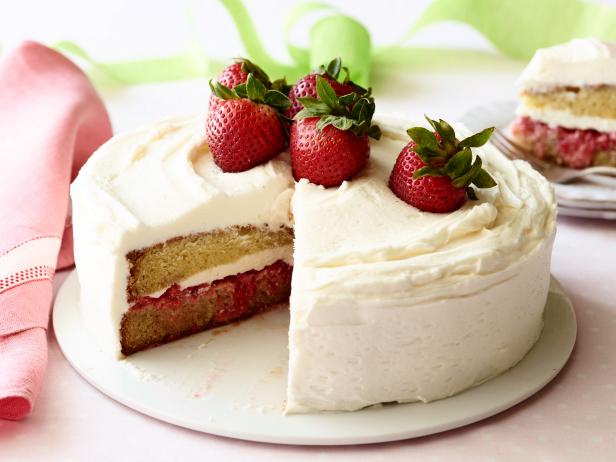 STRAWBERRY SHORTCAKE CAKERee DrummondThe Pioneer Woman/Happy Birthday, PaPaFood NetworkUnsalted Butter, Flour, Cornstarch, Baking Soda, Salt, Sugar, Eggs, Sour Cream, VanillaExtract, Strawberries, Powdered Sugar, Cream Cheese,STRAWBERRY SHORTCAKE CAKE Ree Drummond The Pioneer Woman/Happy Birthday, PaPa Food Network Unsalted Butter, Flour, Cornstarch, Baking Soda, Salt, Sugar, Eggs, Sour Cream, Vanilla Extract, Strawberries, Powdered Sugar, Cream Cheese
Matt Armendariz, 2014, Television Food Network, G.P. All Rights Reserved
Peak strawberry season runs from mid April until late June. It's a pretty narrow window, so don't miss your chance to whip up Ree's stunning strawberry shortcake coated in a simple cream cheese buttercream.
Tender leaves of in-season spinach create the optimal bed for Ree's sunny hard-boiled eggs and crispy bacon garnish. Use peppered bacon for a subtle bite that plays nicely with the tangy Dijon dressing.
Toast the return of al fresco dining season with Ree's 5-star margaritas, which get an extra-tropical boost with the addition of fresh mango puree. (We may think of mangoes as a summer fruit, but in reality, the vast majority of mango shipments to the U.S. occur between April and July!)
No spring soiree is complete without an appearance by in-season avocado — and what better vehicle for showcasing the creamy green fruit than crowd-pleasing guacamole? Ree enhances hers with garlic, jalapenos and chipotle peppers in adobo (that's the "kick").