5 Weeknight Meals You Can Grill (Indoors and Out!) in Under an Hour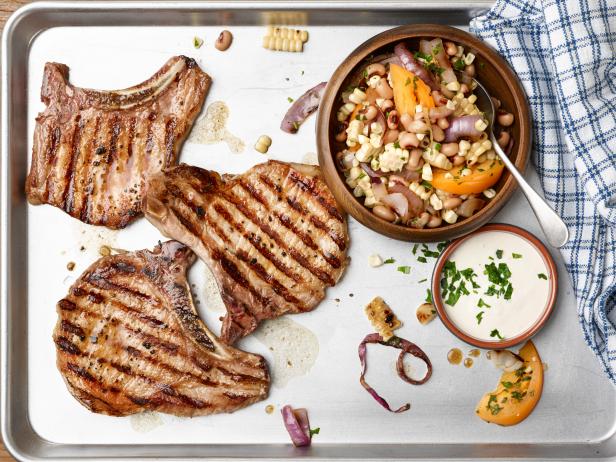 FNK_25_MinuteGrilledPorkChopsWithSuccotash_H
Chef Name: Food Network Kitchen Full Recipe Name: 25-Minute Grilled Pork Chops with Succotash Talent Recipe: Food Networks Kitchen's 25-Minute Grilled Pork Chops with Succotash, as seen on Foodnetwork.com FNK Recipe: Project: Foodnetwork.com, Beat the Clock Dinners / Thanksgiving Show Name: Food Network / Cooking Channel: Food Network
Renee Comet, 2013, Television Food Network, G.P. All Rights Reserved
What's an urban dweller without an outdoor grill to do all summer, when our social media feeds are flooded with mouthwatering grilled recipes? Fortunately, investing in a good grill pan will save you from major FOMO this season. You'll get the same gorgeous grill marks – and minimal cleanup – right on the kitchen stove. Some traditionally barbecued dishes even lend themselves well to the regular oven – no one will believe they were made indoors! Here are 5 weeknight-friendly recipes that were created with indoor grilling in mind.
This entire meal is built on the grill pan (or grill) and is ready in 25 minutes flat. Simply seasoned pork chops cook alongside corn and onions, which then get tossed with canned black-eyed peas and juicy summer tomatoes – no extra pan needed.
Giada's Italian-accented barbecue sauce – spiked with balsamic vinegar – is equally perfect on chicken or steak. She recommends any combination of breast or leg-and-thigh pieces of chicken or New York strips for this simple preparation. With your trusty grill pan, either will be ready in 35 minutes.
Fish can be tricky to cook on the outdoor grill, since the heat level is often hard to control. So your indoor grill pan might even give you a leg up on this tasty recipe, especially if you like your sushi-grade tuna steaks rare in the center.
Ree reworks a cookout favorite into an easy dish to make indoors. She roasts chicken thighs in a hot oven and brushes them with spicy-sweet barbecue sauce a few times during the cooking process for loads of flavor.
Grilled vegetables are all about the grill marks. Those tasty bites of char transform ho-hum slices of eggplant, zucchini and mushrooms into something special and summery. Ree uses her grill pan to work the same magic.