Table for One: Why More and More Americans Are Eating Alone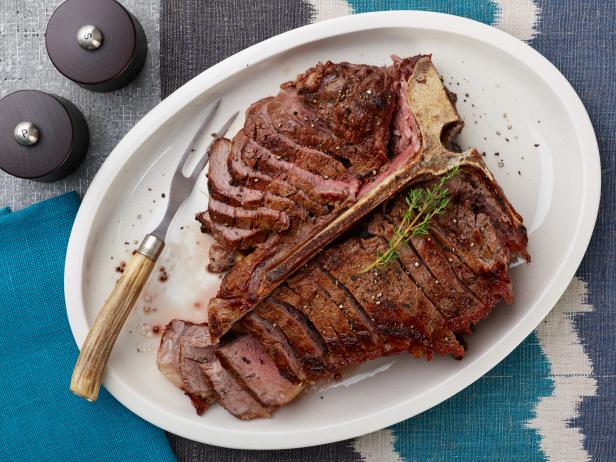 TylerFlorence_ElPaseoPorterhouseSteak_H
Chef Name: Tyler FlorenceFull Recipe Name: El Paseo Porterhouse SteakTalent Recipe: Tyler Florence's El Paseo Porterhouse Steak, as seen on Food Network's Barefoot ContessaFNK Recipe: Project: Foodnetwork.com, CINCO/SUMMER/FATHERSDAYShow Name: Barefoot Contessa, Chef Name: Tyler Florence Full Recipe Name: El Paseo Porterhouse Steak Talent Recipe: Tyler Florence's El Paseo Porterhouse Steak, as seen on Food Network's Barefoot Contessa FNK Recipe: Project: Foodnetwork.com, CINCO/SUMMER/FATHERSDAY Show Name: Barefoot Contessa
Renee Comet, 2013, Television Food Network, G.P. All Rights Reserved
Epicurus said that "feeding without a friend is the life of a lion or a wolf."
We used to live in a cultural time and space when being alone — and certainly, eating alone — was frowned upon, seen as a form of crippled weakness. Who among us did not come of age in a high school cafeteria where sitting by oneself was the ultimate definition of social suicide?
It's becoming clear, however, that solo dining is no longer as socially taboo as it once was. Like it or not, we've become a pride of lions, a pack of wolves. We've adapted to feeding alone.
In the United States, at least, fewer and fewer people are pairing off, and even those who get married are doing so much later in life. According to the Census Bureau, more than a quarter of U.S. households today consist of one person, an increase from 13 percent in 1960. 51% of New Yorkers live alone, and 65% of Americans eat lunch alone at their desks.
Deciding that the self might be, somehow, worth cooking for is not that difficult of a jump to make. Yet the stigma, the indelible shade thrown against eating alone is real.
I've always felt that the greatest disservice to the lone-wolf home cook is that there's a blatant disconnect between the need for scaled-down recipes and the stigma plaguing them — not to mention that no one on earth wants to eat the same humdrum casserole or soup for weeks on end.
For this reason, I've collected a menu of delicious weeknight dinners — for one — to assuage the solo diner that may be latent in you.
Whether you're a frequent-flyer bachelor/ette or entering foreign territory, my hope is that these recipes will legitimate my stance that feeding yourself is something you should never be ashamed of.
Tyler Florence's 52-ounce steak (pictured at top) seems like the right place to start — because why wouldn't you treat yourself to something this primal and fit for a king?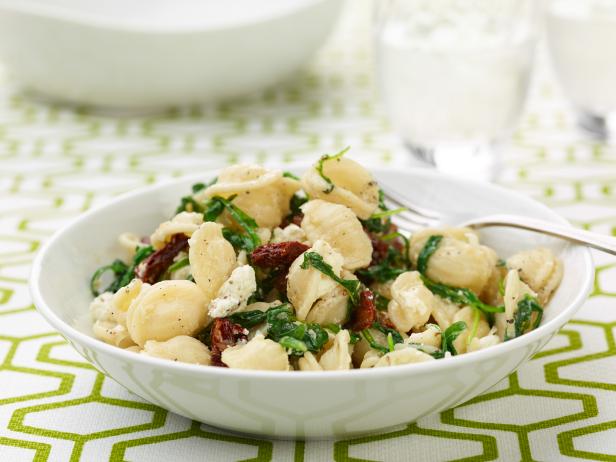 GiadaDeLaurentiis_OrecchietteWithMixedGreensAndGoatCheese_H
Chef Name: Giada De Laurentiis Full Recipe Name: Orecchiette with Mixed Greens and Goat Cheese Talent Recipe: Giada De Laurentiis' Orecchiette with Mixed Greens and Goat Cheese, as seen on Food Network's Everyday Italian FNK Recipe: Project: Foodnetwork.com, CINCO/SUMMER/FATHERSDAY Show Name: Everyday Italian
Renee Comet, 2013, Television Food Network, G.P. All Rights Reserved.
Everyone should know how to cook an omelet, not to mention that it's perfectly portioned for one. You wouldn't want, anyway, to make omelets for more than a single; paired with a simple side salad, it's the perfect solitary supper.
Make sure to follow the layering order in this instant noodle soup. As it sits overnight, the roast beef marinates and becomes super resonant. When you're ready to eat, just add boiling water, wait a few minutes and enjoy being the envy of your office or dorm.
And, because there's always room for dessert, The Pioneer Woman's chocolate mug cake is an obvious essential for the solo diner's weeknight arsenal.