5 Quick and Easy Dinners to Dish Up Pre-Trick-or-Treat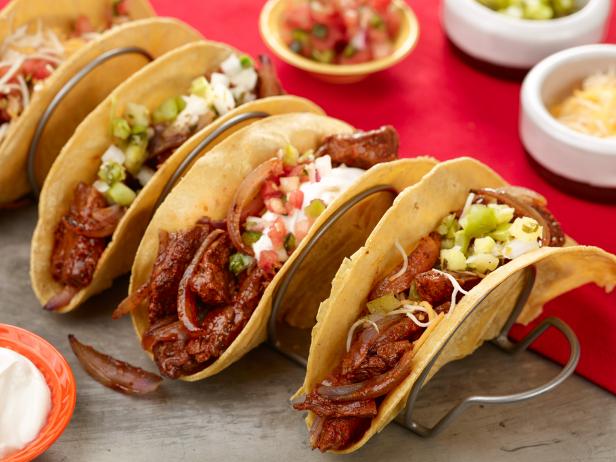 FNK_15_MinuteStirfriedSteakTacos_H
Chef Name: Food Network Kitchen Full Recipe Name: 15-Minute Stir-fried Steak Tacos Talent Recipe: FNK Recipe: Food Networks Kitchen's 15-Minute Stir-fried Steak Tacos, as seen on Foodnetwork.com Project: Foodnetwork.com, Beat the Clock Dinners / Thanksgiving Show Name: Food Network / Cooking Channel:
Renee Comet, 2013, Television Food Network, G.P. All Rights Reserved
As excited as your kids might be for a candy-filled evening, all decked out as their alter egos, it goes without saying that the whole family is going to need some real sustenance to get through a night of trick-or-treating. Fuel up and save time (and energy) for the real task ahead with easy meals you can get on the table in 30 minutes or less.
Prepare a crowd-pleasing taco bar in no time at all with quick cooking skirt steak, a stack of tortillas, and toppings as you like it.
Make this riced cauliflower dish for the whole family in just 20 minutes – about the same time it might take you to cook rice from scratch. Rotisserie chicken and frozen veggies help cut down on cook time while balancing out this healthy dish.
With just a handful of ingredients and a short cooking time, this recipe is everything we love about sheet pan cooking. A quick run under the broiler lightly chars the broccoli and cooks the fish – protected from overcooking by a simple, magical sauce of mayonnaise, Dijon mustard, lemon zest and scallions that also flavors the fish – until it's tender.
Another easy meal with a DIY element, Melissa d'Arabian's recipe features a flavor-packed filling of ground turkey, mushrooms, scallions and water chestnuts. Serve with additional vegetables and a sweet and tangy drizzling sauce.
Not in the mood for pots and pans? The only cooking you'll need to do for this recipe is in the microwave. Shortcut your way dinner success with a shredded rotisserie (or leftover) chicken breast and cheddar cheese-stuffed sweet potato, topped with avocado and scallions.