How I Get 4 Kids to Sit Down for Dinner Peacefully (Almost) Every Night
We follow the "thumbs up, thumbs middle, thumbs down" technique. Here's why you should too.
Ah, the family dinner. Is there anything that conjures up the family dream more? From my first ultrasound, I could totally see it: smiling faces passing platters around a gorgeous farmhouse table. Juicy roasted chicken, golden baked rolls and garden-fresh salad. Kids laughing. Cue the folksy music and zoom in on twinkling lights overhead. Like the opening credits of Parenthood. At my house.
Here's what dinner really looked like: kids slinking in their chairs at the mere mention of tonight's main dish. Lasagna! Everyone wants to know HOW MANY BITES do they HAVE to eat? And splash. There goes someone's milk. And that's just in the first five minutes.
With four small kids ages 8 and under, dinner can be mayhem at my house. So. Very. Stressful. It makes me wonder whether it's even worth it. But through a lot of trial and error, I've come up with a system that really works. Peace at the table is totally possible (most of the time). Here's how we do it.
Take a quick poll. When I'm planning dinner for the week, I'll ask what everyone feels like having. This is not a formal thing. Just a quick question, maybe in the car on the way home from school. The kids love having a little authority, and it gives them something to look forward to. Invariably they ask for "The Chicken", which is our family favorite Honey-Mustard Baked Chicken. Other regular requests are Spaghetti and Meatballs, and everyone cheers when I put Homemade Better-for-You Cornbread on the table.
Pick one thing that each person can enjoy. This is easier than you think. My 5-year-old loves Chicken Tikka Masala, but my 7-year-old is more of a rice person with a dollop of chicken on the side. Done and done. When we make Sheet-Pan Chicken Sausage, Sweet Potatoes and Apples, my oldest daughter is in heaven, but the little guy gently nudges those sweet potatoes right to the side. No problem. And when in doubt, a baguette works for everyone. Make your own or get friendly with the take-and-bake options in the grocery store deli.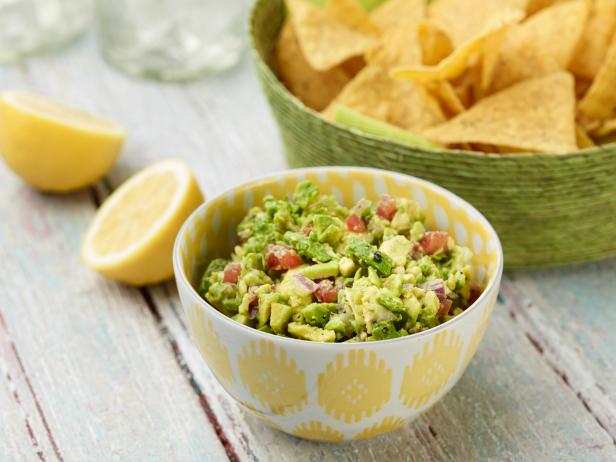 InaGarten_Guacamole_H
Chef Name: Ina GartenFull Recipe Name: GuacamoleTalent Recipe: na Garten's Guacamole, as seen on Food Network's Barefoot ContessaFNK Recipe: Project: Foodnetwork.com, SUMMER/APPETIZERS/PASTAShow Name: Barefoot ContessaFood Network / Cooking Channel: Food Network,Chef Name: Ina Garten Full Recipe Name: Guacamole Talent Recipe: na Garten's Guacamole, as seen on Food Network's Barefoot Contessa FNK Recipe: Project: Foodnetwork.com, SUMMER/APPETIZERS/PASTA Show Name: Barefoot Contessa Food Network / Cooking Channel: Food Network
Renee Comet, 2013, Television Food Network, G.P. All Rights Reserved
Serve bird-like portions. Some parents swear by serving dinner family style, but most of our pans are too hot for kids to serve themselves, and platters are too heavy for them at this stage. Instead, I give each kid about two bites of each dish. Two bites of Enchilada Casserole, two bites of Ina Garten's Guacamole and two tortilla chips to go with. Then here's our deal: Once you eat everything on your plate, you're welcome to more of anything you like. Or not. It's so easy. Everyone understands, plus here comes that autonomy again. When the kids get to make choices for themselves, everyone's always happier.
Set the tone. I learned this from a kindergarten teacher. Dim the lights, turn on soft music and get everyone to the table for a quick blessing or just a moment of silence. This helps kids transition. When our crew is really getting rowdy and antsy, I'll sometimes ask everyone to just stay quiet until all the food is dished up. The big guys love to play "Restaurant Manners," and our littlest is very proud when she can sit "just like a rock." The key is asking everyone in a calm and kind tone, like you're explaining a fun game in the most-hushed tone. Mom's not aggravated. Dad hasn't lost his cool. (Yet.) Instead of wishing that everyone would JUST SETTLE DOWN, we've learned to really get in there and take leadership positions to set the tone for our evening meals. It makes all the difference.
Play Caesar. If your crew can master this technique, you'll never hear a complaint about food again. Here's how it works for our kids: When the cook asks you for feedback – and this is key – everyone can give a thumbs up, thumbs middle or thumbs down. That's it! No one needs to say "yuck" or "I don't like that." Nope, all comments can instantly be translated. Now, if someone has compliments about tonight's dinner (and they usually do when it's a toasted sandwich like our Mini Turkey & Cheese Grinders or Apple Jack Sandwiches)…well then, sky's the limit.
Keep it simple. The most discouraging thing is spending tons of time and money on a dish that doesn't turn out to be a crowd pleaser. If you have small kids, this season of your life might not be about experimenting every night with all the amazing dishes you see on TV. For some people that's obvious, but some of us need to let ourselves off the hook. Feeding kids a fresh and hearty meal, full of the most nutritious options we can find is no small thing. So, take shortcuts.

It takes a while to get all these steps in action but if you only start with one, I say make it the Thumbs Up/Thumbs Down review system. That's a game changer that'll set the stage for more peace to come.