Here's what to make this Father's Day to show your love and respect for Dad — and veggies.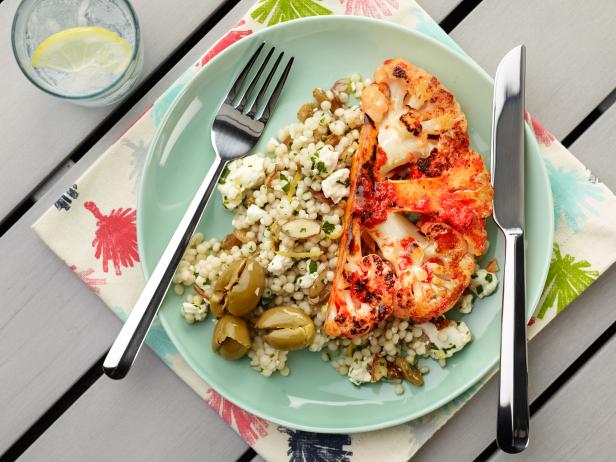 FNK_GrilledCauliflowerSteakWithIsraeliCouscousAndOlives_H
Chef Name: Food Network Kitchen Full Recipe Name: Grilled Cauliflower Steak with Israeli Couscous and Olives Talent Recipe: FNK Recipe: Food Network Kitchen's Grilled Cauliflower Steak with Israeli Couscous and Olives, as seen on Foodnetwork.com Project: Foodnetwork.com, SUMMER/APPETIZERS/PASTA Show Name: Food Network / Cooking Channel: Food Network
Renee Comet, 2013, Television Food Network, G.P. All Rights Reserved
Maybe your dad or partner's food preferences don't fit the Father's Day stereotype – steaks, ribs, burgers and more steaks. Despite all the meaty marketing around this holiday, some dads are vegetarian, some vegan, and others simply omnivores who appreciate some vegetables at a Sunday barbecue.
There's something about cutting into a steak that feels celebratory – but the same goes for cauliflower steak! These harissa-rubbed slabs are packed with bold flavors, and they look super impressive coming off the grill.
If your family says it's not a cookout without burgers, that doesn't mean they have to feature beef. These hearty veggie burgers totally pass as dude food – they're the mastermind of Guy Fieri, after all.
This chile-cheese casserole inspired by Mexican chilaquiles is the perfect way to kick off Father's Day. Prep it ahead and pop in the oven that morning so Dad wakes up to intoxicating cheesy aromas.
Vegetables aren't all health food – they can be indulgent in the best of ways, like this chicken-fried cauliflower that might trump its meaty inspiration in flavor and crunch.
If Dad's weakness is pasta, not meat, this summery toss of sweet corn, hearty kale and meaty mushrooms will hit the spot.