5 Ways to Have Even More Fun With Booze on Game Day
Pass these shots, punches and milkshakes (!) around to score big with your guests.
Stocking your cooler with beer is a given for the big game. But don't put your entire beverage lineup on autopilot — level up as a game-day host with these drinks that will get everyone laughing and cheering.
If you love a jalapeno maragarita, can we interest you in a shot that's a bit more of a "challenge?" Pass 'em out to your guests to find out who can take the heat — will you be the fan who gets an extra-spicy one?
Just a little malted milk powder and Scotch (hello!) make plain ol' vanilla milkshakes fourth quarter-ready.
Frankly, that sweet spot between "a little bit classy" and a "little bit trashy" is exactly where we want to be when planning a game-day menu. To make this, get all your ingredients for the classic cocktail, but make a left-turn and add some DIY beer slush before serving.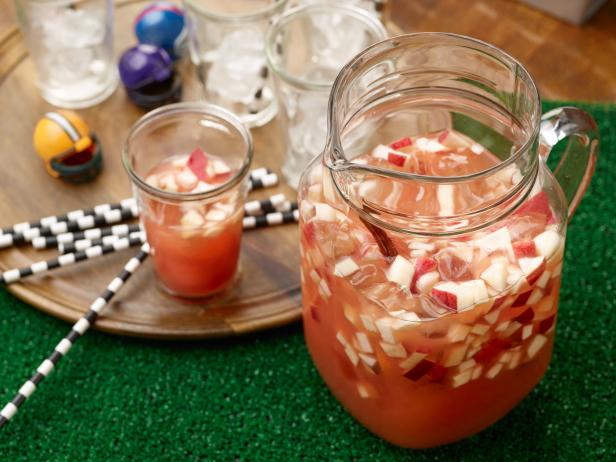 2458 F
Two glasses of winter sangria with fresh fruit. This was made with orange juice, honey, orange liqueur, cubed fruit, soda, and sparkling red wine., Chef Name: Sunny Anderson Full Recipe Name: Winter Sangria Talent Recipe: Sunny Anderson's Winter Sangria, as seen on Cooking For Real FNK Recipe: Project: Foodnetwork.com, HOLIDAY/SUPER BOWL/COMFORT/HEALTHY Show Name: Cooking For Real Food Network / Cooking Channel: Food Network
Renee Comet, 2013, Television Food Network, G.P. All Rights Reserved
With lots of sweet citrus, pears and cinnamon, Sunny Anderson proves that sangria is not just for summer. Plus, she mixes lemon-lime soda with sweet, sparkling red wine for extra fizzy fun.
Everyone loves a pretty, fruity ice ring (and if you've got a bundt pan, you've got all the equipment necessary to make one!). This one floats in a crowd-pleasing, Cosmo-inspired punch.