How I Shop and Cook for a Big Family Without Going Broke
One mom gets real about her money-saving strategies that work for big families and singles alike.
We're a six-person family, but our budget lines up with about an average family of four. It helps that four of those family members are in elementary school or preschool, but still — budget food shopping is just my jam, as nerdy as that sounds! What's not to love about feeding your family tons of fresh food without raiding the college fund? Here's how I do it:
Buy store brand everything. I really do mean everything. Cheese, milk, frozen vegetables (more on these in a minute), rice, canned beans, etc. When you make Black Bean Enchilada Casserole, no one will ever detect the difference between the store-brand beans and a brand from a zippy TV commercial.
Have a few dinner staples on hand to pair with sale items. I'm not a big meal planner, but it's safe to say that I'll want an easy dinner or two for the week. I usually get inexpensive frozen cauliflower for roasting, and this time of year you can't beat warm Broccoli & Cheese Soup so I'll grab a big bag of the frozen green stuff too. Then I look for sales to fill the gaps: Wild-caught fish fillets are often marked down, plus I always hit up the bakery to see what their freshly baked rolls and bread look like. Something is usually marked down and it'll be perfect for dipping in soup.
Stock up on expensive ingredients. I buy organic chicken for everything from Ina Garten's Parmesan Chicken to my kids' favorite Honey-Mustard Chicken, so when I see a sale, I usually buy four or five containers to throw in the freezer. That alone may save me $15 from a future grocery bill. Got a coupon for puff pastry? I buy the maximum so we can enjoy Cheeseburger Hand Pies or Easy Sticky Buns without paying a fortune when the mood strikes.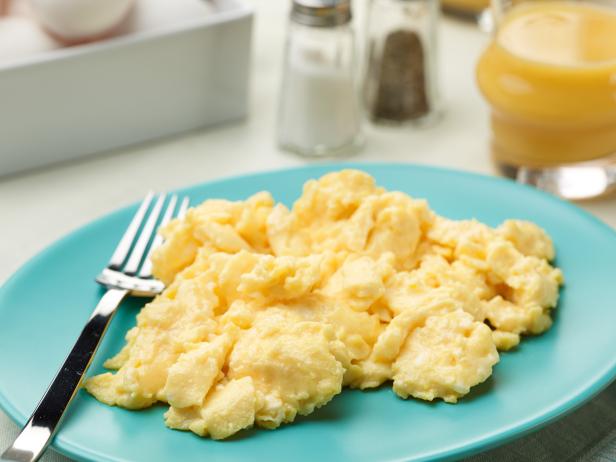 FNK_SimpleScrambledEggs_H
Chef Name: Food Network Kitchen Full Recipe Name: Simple Scrambled Eggs Talent Recipe: FNK Recipe: Food Networks Kitchen's Simple Scrambled Eggs, as seen on Foodnetwork.com Project: Foodnetwork.com, FN Essentials/Weeknights/Fall/Holidays Show Name: Food Network / Cooking Channel: Food Network
Renee Comet, 2013, Television Food Network, G.P. All Rights Reserved
Get smart about leftovers. Did you know that one of the leading contributors to landfills is food? The methane released as it decomposes is awful for the planet, and the sheer waste is rotten for the bottom line. My family isn't big on leftovers, but here's my 3-step plan for handling extra dinner:
1. Freeze half right away. For things like Classic Lasagna and Slow Cooker Baked Potato Soup, I always put half the batch in the freezer the moment it's done cooking (and completely cool). Now there's a "new" dinner ready to go when I need.
2. Repurpose for another dinner. Extra filling from Taco Tuesday can become a ton of new dishes later in the week: Taco Soup, Taco Tarts or a small Taco Bake. To make our filling go further, I always combine two cans of beans (drained and rinsed) with one pound of meat.
Watch the pricey snack foods. Confession: I don't buy soda or juice, and I only pick up chips when they're on sale. Once you start snacking on things like bags of apples and oranges or bunches of bananas, you'll find that your taste for processed foods starts to wither, as your bank account grows. Seriously. I bought 9 bananas yesterday for $1.72. You'd spend twice that for a bag of chips and get fewer servings (not to mention nutrition).
Use your fidelity card. This sounds like a no-brainer, but there was a time when my savings card wasn't hooked up to my phone number. Of course, I lost my card. Then I went shopping. And that day my whole cart of groceries cost 25 dollars more than it would have if I'd had my card! You better believe I got a new card AND spent 10 minutes to get my phone number connected to all those sales from here on out.
Like life itself, saving money on groceries is mostly about being intentional. Buying what you need in the long term, what you know you'll use and scouring for great deals along the way.