Want Your Kids to Eat Dinner? Stop Giving Them So Many Snacks!
One mom is here to tell it like it is.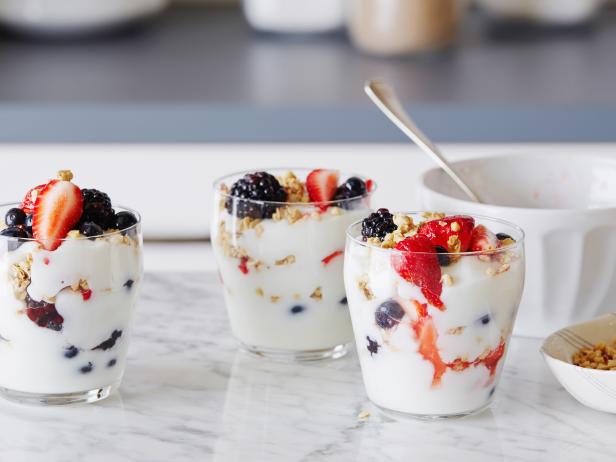 YOGURT AND FRUIT PARFAITS, Rachael Ray, 30 Minute Meals/Breakfast for Dinner, FoodNetwork, Vanilla Nonfat Yogurt, Frozen Strawberries, Blackberries, Raspberries, Blueberries,Granola,YOGURT AND FRUIT PARFAITS, Rachael Ray, 30 Minute Meals/Breakfast for Dinner, Food Network, Vanilla Nonfat Yogurt, Frozen Strawberries, Blackberries, Raspberries, Blueberries, Granola
Matt Armendariz, 2014, Television Food Network, G.P. All Rights Reserved
If there's one phrase that sounds like nails on a chalkboard to parents, it's gotta be, "Can I have a snack?" Five minutes before dinner. Five minutes after dinner. Sometimes during dinner.
It's all about the snacks.
Maybe that's why I'm kind of a stickler about them.
Our four kids (ages four to nine) get two snacks per day: one mid-morning bite at school and another when they come home. That's it.
Yes, there's an occasional meltdown when dinner's late. But I find that our lives actually work BETTER when kids are hungry before dinner. That way they actually eat the dinner. "You're supposed to feel hungry before you eat," I've often told them. "That's how you know it's time to eat again."
Our kids were born in Italy, where family meals are taken very seriously. And inversely, snacks are less of a thing. First of all, no one walks around in public eating anything. So that nixes crackers in snack packs, string cheese in your purse and almost anything else "to go". Plus, a home-cooked family meal is the highlight of the day. Why would you want to snack all afternoon and ruin it?
They make a good point, those lovely Italians.
But still. Growing kids are hungry kids. And here in North Carolina, snacks have made their way into our daily routine. But in the name of kids who eat their actual meals, at a table, with other people and do so fairly peacefully, here's the hard line on snacks at our place:
1: Fruit Galore: Maybe it sounds boring, but there's nothing faster — and often more refreshing — than a juicy piece of fruit. We have a snack drawer in the fridge that's always stocked with apples and oranges. Pears and plums show up during the summer months. Bananas and kiwi live on the counter. Fiber, vitamin C and just enough calories to fill you up, plain ol' fruit is seriously hard to beat. But to make it feel special, sometimes I make a huge platter of apple slices and drizzle chocolate and peanut butter over the top. See? That happens too.
2: Yogurt 2.0: Parfaits are really the way to go. Building them yourself with a little granola and fresh fruit means that they'll have less sugar than the pre-mixed store-bought kind. Plus, they're also gorgeous. Mindless eating isn't what I want for my kids so it's lovely when something as simple as shiny layered fruit can catch their eye.
5: Straight-Up Veggies and Dip: I know it seems like a stretch, but you won't believe how quickly kids will devour a tray of fresh raw veggies if you set it out for them after school … with nothing else but some dip. Try it.
I've fed them all sorts of snacks, some winners some losers. But here's what I stumbled upon the hard way: Do not, under any circumstances, feed your kids a snack within two hours of dinnertime. Not only will they give your freshly made dinner the side-eye, but they'll wiggle and jiggle their way through a meal that could've been calm and nice. Well, calmer. And definitely better than all the wiggling and jiggling because they'd be eating dinner with you.
That's what I finally figured out and there's no going back.