6 Clean-Out-the-Fridge Meals to Make Before Vacation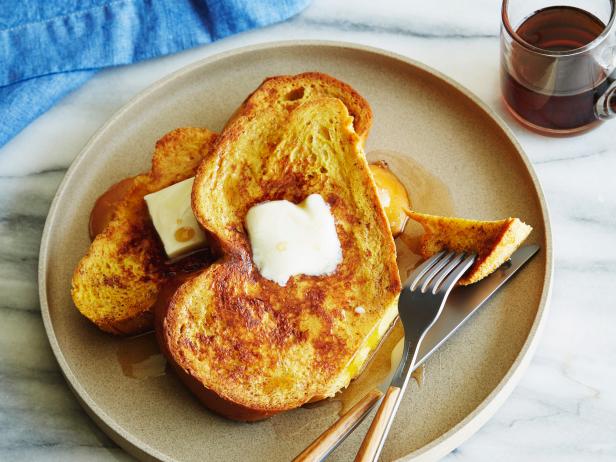 FRENCH TOAST, Robert Irvine, Dinner: Impossible/Groundhog Daze, Food Network, Cinnamon, Nutmeg, Sugar, Butter, Eggs, Milk, Vanilla Extract, Challah, Brioche, or White Bread, Maple Syrup,FRENCH TOAST, Robert Irvine, Dinner: Impossible/Groundhog Daze, Food Network, Cinnamon, Nutmeg, Sugar, Butter, Eggs, Milk, Vanilla Extract, Challah, Brioche, or White Bread, Maple Syrup
Matt Armendariz, 2014, Television Food Network, G.P. All Rights Reserved.
Before leaving for summer vacation, there are a few steps everyone must take: Packing, re-packing (we know you forgot something the first time) and cleaning out the refrigerator. After all, who wants to come home to a kitchen full of smelly, expired goods? That's why we rounded up the best fridge-cleaning recipes to make before you travel — they're ideal for using up fresh veggies, milk and other perishable groceries. Happy travels!
When I was a kid, French toast for dinner was pretty much a given on the night before vacation. Why? It uses up all the bread, milk and eggs left hanging out in the fridge — and it tastes pretty darn good. Give Robert's five-star recipe a try and see for yourself.
Have a few veggies kicking around the fridge? Put them to work with Ree's spicy stir fry. Though her recipe is vegetarian, there's no reason you can't throw in some chicken, beef or shrimp as well.
Salads are a great way to clean out the odds and ends in your refrigerator. To make the most of your summer produce, chop it up, layer in a pretty bowl and enjoy your tasteful (not wasteful) pre-vacation meal.
So, you already cleared your fridge to the bare bones. No worries — Sunny's pasta is here for you. The only cold items you need are frozen peas, pancetta (or bacon) and grated Parmesan. Plus, the whole meal is ready in less than 30 minutes!
The name says it all with Ree's convenient gazpacho. She purees the best summer produce (strawberries, tomatoes, cucumber and bell pepper) to make a quick and easy soup, then toasts a side of bread for serving. Gazpacho is meant to be served cold, so feel free to make in advance and chill until you're ready to eat.
What's not to love about these decadent muffins? Not only are they great as both breakfast and dessert, but the recipe includes all the items you'll want to use up before vacation (like milk, eggs, cream cheese and sour cream). Bonus: these creamy, fruit-filled muffins make a great travel snack!