Survive Summer with These Boozy (and Refreshing!) Slushies
Just what you need for all those 90-degree days!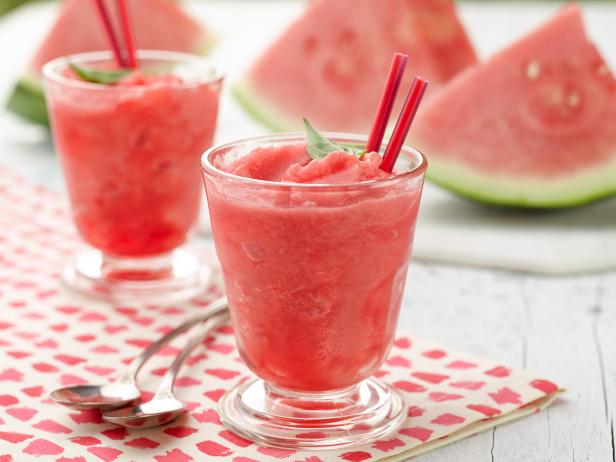 FNK_WatermelonLemonadeSlushie_H
Chef Name: Food Network Kitchen Full Recipe Name: Watermelon Lemonade Slushie Talent Recipe: FNK Recipe: Food Network Kitchen's Watermelon Lemonade Slushie, as seen on Foodnetwork.com Project: Foodnetwork.com, SUMMER/APPETIZERS/PASTA Show Name: Food Network / Cooking Channel: Food Network
Renee Comet, 2013, Television Food Network, G.P. All Rights Reserved
If you're looking for an easy way to beat the heat this summer, we have the drink for you! Fun, frosted and oh-so-flavorful slushies are here to keep you refreshed all season long. They're also super versatile and sure to satisfy everyone from mixed drink-lovers to die-hard winos — we're looking at you Moscato fans! So, what are you waiting for? Grab your ice cubes and get blending now!
If you're looking for an unexpected way to enjoy everyone's favorite summer fruit, look no further than these 4-ingriedient watermelon slushies. Basil-infused simple syrup fills each one with a fragrant botanical note perfect for hazy nights spent by the pool or lounging in your backyard.
Froscato is the new Moscato! To create these tricolored beauties, mix and freeze Moscato wine and orange juice in one ice cube tray and pink lemonade, grenadine and more Moscato in another. You'll then blend each mixture separately and layer them on top of one another for a magical ending to any weeknight or weekend.
There's no better way to get through a scorching hot day then with a crisp glass of rosé. To make this new version, you'll puree strawberries, sugar and lemon juice in a blender. You'll then run the mixture through an ice cream machine, transforming it into an ultra-thick and deliciously creamy treat.
When it comes to frothed drinks, pina coladas will always have a special place in our hearts. To make this tropical classic, simply blend dark and white rum with ice, coconut cream and frozen pineapple.
If you didn't think sangria could get any better, think again! To make this frozen version, fill an ice cube tray with red wine and freeze overnight. Once ready, you'll blend them with brandy, orange liqueur, superfine sugar and frozen mixed berries. The end result is a citrusy explosion of fruity flavor that you'll want to drink year round.