A Wine-Soaked Kitchen Towel Is the Secret to Perfect Grilled Meat
The Colombian classic, Lomo al Trapo, is going to up your grilling game this summer.
Chances are you've grilled up plenty of burgers, chicken and steak this summer. And while we love some chicken kabobs and cheeseburgers, we're challenging you to kick up your grilling routine for the last few weeks of summer with a major meat dish that'll blow your mind.
Literally translating to "beef tenderloin wrapped in a towel," this Colombian dish is exactly what it claims to be. Beef tenderloin wrapped in a wine-soaked kitchen towel, grilled over medium-high heat. And while it sounds simple, it's perhaps the most impressive grilled meat you'll make all summer. Here's why.
Before you wrap the 2-pound hunk of beef in a kitchen towel, burrito-style, it gets a salt crust. The salt is combined with red pepper flakes, ground black pepper and fresh oregano creating the perfect flavorful seal. Don't worry about the quantities. Two pounds might sound like a lot of salt, but the beef will turn out tender and perfectly seasoned. Just trust us on this one.
You'll want to make sure you opt for a cheaper kitchen towel you don't mind throwing away. It will basically burn off in the charcoal and even if it didn't, you'd never be able to get all that wine out of it. However, the red wine makes for a gorgeous presentation when bringing the beef to the grill. Plus, it'll help keep the kitchen towel from totally charring and impart even more flavor into the beef. Your guests will be in awe before you've even served them.
What would a party dish be without the final reveal? After the meat has been grilled and rested, the real moment of truth comes. You'll crack off the crust of salt and whatever towel is remains to reveal a perfectly cooked cut of beef with a browned exterior that's full of flavor. A true masterpiece!
We're sorry, there seems to be an issue playing this video. Please refresh the page or try again in a moment. If you continue to have issues, please contact us here.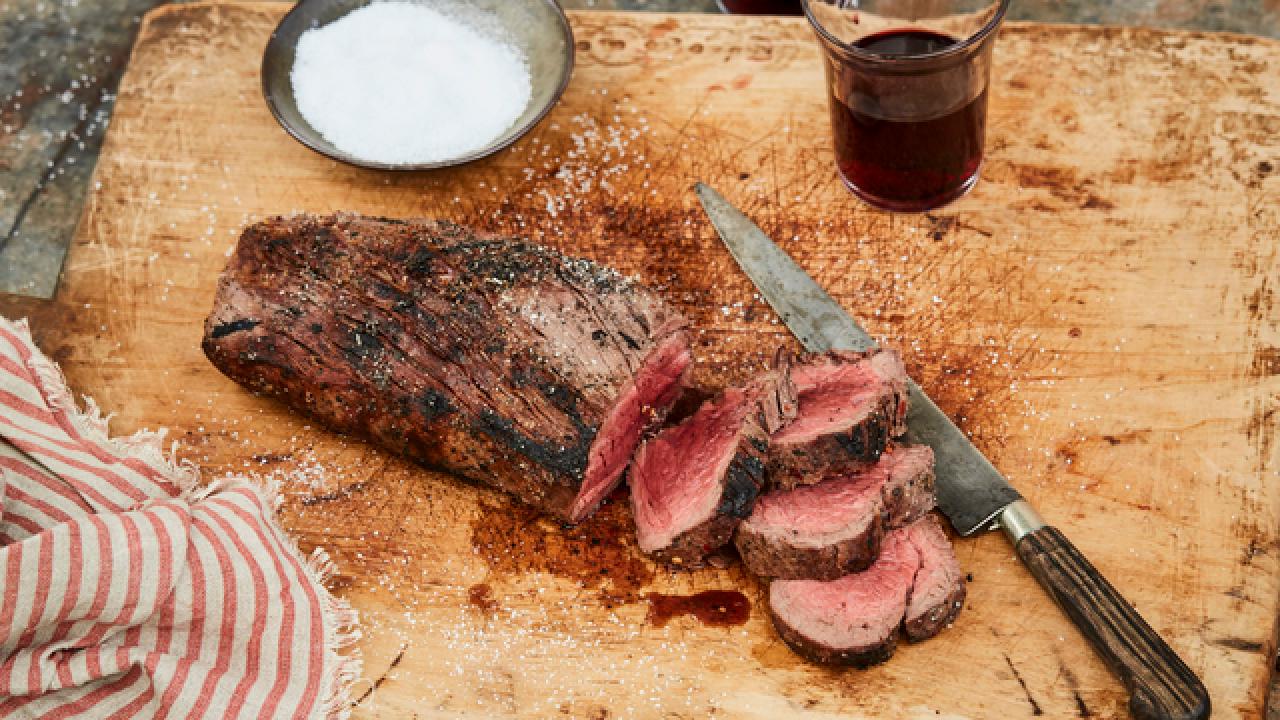 Finally, It's Pretty Simple.
Check out the video above for proof! Start to finish the entire process takes about an hour and 45 minutes — and that includes the time it takes for the beef to stand at room temperature before cooking. The recipe is a mere six ingredients long and once you've got the prep work done, all that's left is 20 minutes on the grill with 15 minutes of rest. If that doesn't make the final product even more wow-worthy, we don't know what does.
Try this at your next backyard barbecue and guests will be clamoring to know your secret to the perfect grilled beef. It's up to you whether or not you want to let them in on it, though!