This Ingredient Completely Changed How I Eat Spaghetti Squash
And it's probably in your fridge right now.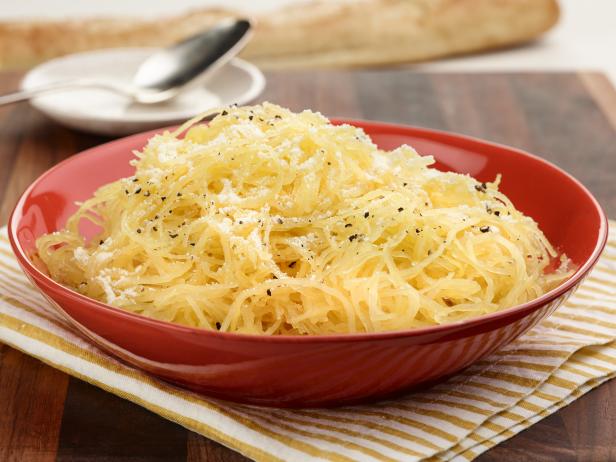 FNK_SpaghettiSquashwithParmesanCheese_H
Chef Name: Food Network Kitchens Full Recipe Name: Spaghetti Squash with Parmesan Cheese Talent Recipe: FNK Recipe: Food Network Kitchens' Spaghetti Squash with Parmesan Cheese as seen on Food Network. Project: Foodnetwork.com, Back to School/Sandwich Central/Dinner and a Movie/Sides Show Name: Food Network / Cooking Channel: Food Network
Renee Comet, 2013, Television Food Network, G.P. All Rights Reserved
Truth be told, I've never really understood the hype around spaghetti squash. Though its mild flavor and noodle-like texture make a good boat for hearty dishes (like this Sausage and White-Bean stuffing), I've never been sold on eating it as a plain side dish — and don't even talk to me about using spaghetti squash as a pasta replacement.
However, my viewpoint changed completely when I made Food Network Kitchen's deceptively simple Spaghetti Squash with Parmesan Cheese. I know a sprinkle of cheese may not seem like it adds much, but trust me on this one — the salty tang of Parmesan brings out the subtle sweetness of the squash. And, with a dollop of butter and some salt and pepper, the simple side dish becomes a rich, creamy and delicious addition to your dinner.
There are a lot of pros to this simple recipe — it's easy, there's minimal prep work and it requires just four ingredients (three of which are staples I always have on hand). That being said, I personally believe that the best part is its versatility. Though this dish would work especially well with cheesy Italian mains (Eggplant Parm, anyone?), I eat it with everything from turkey burgers to baked chicken. If I'm feeling a little less hungry (or just extra lazy), I'm perfectly content to eat it as an entire meal.
Made as written, this recipe is sure to please (the rave reviews don't lie). My advice? After roasting the squash in the oven, scoop out the insides and cook them with the butter in a cast iron pan until the squash is lightly browned and extra gooey. I like to stir in the cheese right before I turn off the heat, then eat it right away. When it's so good, who can wait?