6 Pizza Crust Alternatives That Are As Healthy As They Are Delicious
Don't knock 'em until you try 'em!
I was having a conversation with someone recently when they shocked me by saying that other than toppings, there was no other ways to make pizza exciting, unexpected or fun.
As someone who consumes pizza at least two times a month (and almost every Friday during Lenten time), I couldn't believe what I was hearing. Yes, toppings are a great place to start – mushrooms, pepperoni, and chicken are all winners in my book. But, there are so many other ways to give a slice of pizza a little extra pizzazz. If you're a skeptic like my friend, I have one word for you: Crust.
Hailed by some (myself included) as the best part of a pizza pie, crust offers endless ways to take your cheesy and saucy treat to the next level. Easily customizable, pizza crust can also be made from just about anything, just ask celebs like Oprah and Halle Berry, who have fallen head over heels for cauliflower-based crusts.
Besides being super simple to put together, veggie-based crusts also give you the perfect excuse to inject a healthy note into your favorite dish without losing any of its beloved flavor. (Trust me, barely anyone will notice the difference.) So, without further ado, I give you all the alternative pizza crusts I'll be making this winter. I hope my friend, and you, enjoy them.
You don't need to worry about breaking your New Year's resolution with this keto-friendly approach to pizza. Not only is this recipe completely gluten-free, the crust is made of sour cream, almond flour and mozzarella cheese, so it's low in carbs too!
Seven ingredients and fifty minutes are all you need to make this ultra-tasty pizza crust from Katie Lee. To start, pulse cauliflower florets in a food processor. Next, transfer the mixture to a steamer basket and drain. To make doubly-sure all the moisture has been removed, Katie recommends placing the steamer basket on a towel. Add the cauliflower to some mozzarella, Parmesan, oregano, salt, garlic powder and eggs and form into a pizza with your hands for a picture-perfect snack.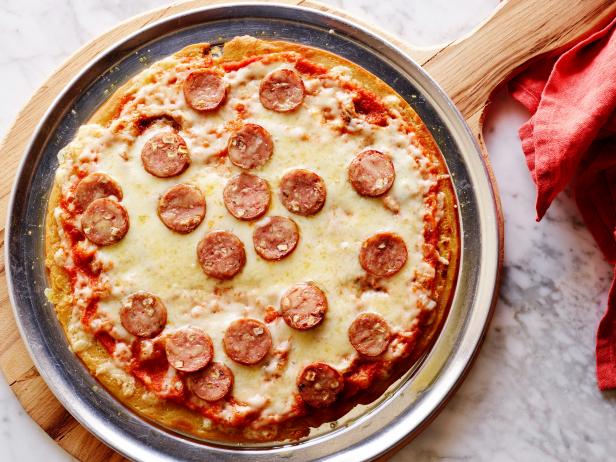 CHICKPEA CRUST PIZZAKeri GlassmanThe Food Network Blogpost Recipes/Trying New FoodsFood NetworkChickpea Flour, Garlic Powder, Salt, Olive Oil, Onion, Garlic, Carrot, Sea Salt, Pepper, CrushedTomatoes, Chicken Sausage, Provolone Cheese,CHICKPEA CRUST PIZZA Keri Glassman The Food Network Blogpost Recipes/Trying New Foods Food Network Chickpea Flour, Garlic Powder, Salt, Olive Oil, Onion, Garlic, Carrot, Sea Salt, Pepper, Crushed Tomatoes, Chicken Sausage, Provolone Cheese
Matt Armendariz, 2014, Television Food Network, G.P. All Rights Reserved
Chickpea flour, garlic powder, olive oil and salt are all you need to make this flavorful pizza crust. Flip over when baking it in the oven to give each side a golden-brown sheen.
If you're a huge fan of sweet potato pie and baked casseroles, you're going to love this pizza crust recipe from The Kitchen. Simply dice one medium sweet potato into 1-inch cubes and combine with one egg, almond flour, Parmesan cheese, garlic powder, salt and pepper to form a crispy crust. Top with blanched broccoli rabe, crumbly goat cheese and savory browned sausage for a melt-in-your-mouth treat.
"The key to all these veggie-crust pizzas is to really try to get the water content out of the vegetables," Katie Lee says about her spaghetti squash version. Katie bakes her crust in the oven before topping it to form a light and airy bottom.
Valerie Bertinelli's friends were in awe when she told them how she uses leftover cauliflower to make this super thin pizza crust, and we bet yours will be too! After pulsing cauliflower florets in a food processor, Valerie wraps the mixture in a towel and strains it with her hands to ring out any excess water. Pour in some Parmesan cheese, Italian seasoning, garlic, salt, and black pepper and combine with an egg to bind the dough mixture together. Bake in the oven for 15 minutes and then top with even more cheese and marinara sauce and bake again for a delicious meal anytime.