Here Are the Best Wines for Your Thanksgiving Dinner
You might want bubbles for that bird.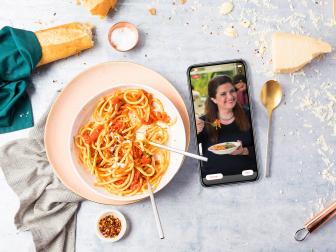 Download Food Network Kitchen now to take advantage of a 90-day free trial and get 25+ live classes a week, hundreds of on-demand cooking classes, in-app grocery ordering and so much more.
The turkey is the main event at Thanksgiving, but the bottle that goes with the bird is nearly as important. "Wine is what makes the Thanksgiving table exciting," says Henk Schuitemaker, sommelier at Angus Barn, a steakhouse in Raleigh, North Carolina, that's renowned for its wine program. "You have your traditional spread of everything, but what's different, what's exciting, what's unique? Wine can be that element that does that."
How, though, do you pick a bottle that checks all the boxes of feeling festive, pairing with your Thanksgiving spread and satisfying a plethora of palates? Above all, experts say you should drink what you like (and remember that a great wine doesn't have to be expensive!). But if you need a little guidance or want to branch out from the usual suspects, follow these wine pros' recommendations to find your best bottle.
Champagne screams celebration, but it also happens to be exceptionally food friendly and can take you from apps to dessert.
Michael Kennedy, a vintner, sommelier and founder of the Component Wine Company, is a fan of rosé champagne. When paired with turkey, he says that it "cuts fat from the buttery, crispy skin and gravy, enhances the sweetness of the protein and plays well aromatically with winter spices."
But when it comes to bubbles, you're not limited to Champagne. "Within the bubbles family you've also got prosecco from Italy, cava from Spain and California sparkling wines. If someone has sweeter tooth, try a dolcetto from Alba in Piedmont," Schuitemaker says. He also reveals that many wine shops offer special deals on Champagne this time of year, and it never hurts to ask your local wine shop if they offer a discount for buying in bulk.
Shannon McGaughey, the co-owner of Vivian in Asheville, kicks off Thanksgiving with a brut sparkling rosé like a Spanish cava (brut refers to the level of dryness, which indicates lower levels of residual sugar). She's particularly fond of cava from Penedes, a region in Catalonia. "It's a great match for the wide spread of different appetizers that tend to appear before dinner, and since it maintains dryness and strawberry undertones at the same time, it tends to be a crowd pleaser," she says.
For those whose palates skew sweeter, Renee Childers, who oversees the wine program at Chestnut in Asheville, points to sparkling reds, such as a lambrusco from Lombardy, Italy. "It's a deep-red, sparkling wine that is fruity and rich with a balance of berries and minerality," she says.
Somms are all about showing rosé some love beyond summer months. "I have argued before that rosé is like white-wine-extra, more body, more tannin, richer texture, but still elegant and light enough to be chilled and enjoyed like white wine," Kennedy says. Plus, if your Thanksgiving is taking place in warmer climes, he says that it's perfect for people who normally drink red. "It's like red-wine-light and can be chilled for hot temps outside."
Patricia Gooden, the wine and beverage at Mandolin in Raleigh, North Carolina, is also a champion for year-round rosé drinking. "As the cooler weather months are upon us, try a rosé made with pinot noir, and/or Malbec. These rosés will have the character to handle the comfort foods of the season," she says.
McGaughey believes that rosé can help bridge the gap between wine drinkers' varying preferences. "I'd go for a more medium bodied, slightly fruity rosé, like one from Tuscany or the Rhône," she says.
Think of these wines as the utility knives of your Thanksgiving table: They satisfy a variety of palates and they all pair beautifully with a Thanksgiving spread.
Pinot Noir: Pinot noir wines are a classic Thanksgiving pairing; Kennedy recommends seeking out pinots from Oregon. "It's light enough and heavy enough, a classic medium between richer pinots from Russian River and lighter, more earth-driven wines from Burgundy," he says. "Structurally, it is light bodied, allowing it to play well with sweet, lean turkey, but it also has fresh acidity to cover fatty components like gravy, buttery breads and even vegetables like green beans or Brussels sprouts."
McGaughey suggests looking to lesser-known but equal power-house pinot-producing regions such as Pfalz, Germany. She says to look for a Spatburgunder or St. Laurent. "You'll get the same light-medium body, but some wonderfully funky terroir aromas and baking spices to match those flavors you find in your Thanksgiving sides."
Riesling: Chardonnay is another traditional pairing, but Riesling is just as versatile. "It's a thin-skinned grape with an early ripening and has high acidity. You need a wine with a good bit of acidity when matching it with food. It opens up flavors in food," Schuitemaker says.
Childers loves dry-style Rieslings from Alsace, saying, "These wines are lively in the glass with a nice balance between citrus notes of fresh lime, apricot, baking spices and a nuance of graphite. The higher the quality of an Alsace dry Riesling, the more intense and developed the bouquet and flavors."
Beaujolais: Beaujolais wines are a darling among sommeliers. "This region in France produces fruity, light acidity, medium-bodied, slightly earthy wines. It's a crowd pleaser for those who enjoy pinot noirs, with the interest in the glass that a cabernet sauvignon drinker enjoys," Childers says.
Wines from Beaujolais are typically produced with Gamay grapes. "Gamay is an ideal grape for Thanksgiving because it has great acidity, which is perfect for food but is also relatively lower in tannins so, it can truly be a crowd pleaser," says Christine Kendig, a sommelier at Husk Greenville in South Carolina. They're also great served slightly chilled, which is particularly good for Thanksgiving celebrations in warmer climes.
Beaujolais Nouveau, which is released every year on the third Thursday of November, feels like a particularly timely addition to the Thanksgiving table. "Beaujolais Nouveau is quite fruity and quaffable; upgrade to a Cru Beaujolais from Brouilly or Morgon to get more depth of fruit and earthy characteristics that pair great with game birds," McGaughey advises.
Natural wines — those made with organic or biodynamic grapes, no added preservatives and little-to-no intervention in the fermentation process — are all the rage these days. But do they have a place on the Thanksgiving table? Tony Aquilina, the beverage director at Nashville's lou, a restaurant and all-natural wine bar, thinks they're a perfect fit. "They are generally lower in alcohol and higher in acidity, which makes them a great pairing with Thanksgiving cooking," he says.
He recommends starting with something light and sparkling while guests are mingling and nibbling on apps—a Pétillant Naturel, or Pét-Nat, fits the bill nicely. It's bottled before it has fully finished fermenting, so it's lightly sparkling and bursting with freshness. Once the turkey and sides hit the table, Aquilina suggests serving French natural wines: fuller-bodied whites and medium-bodied reds, particularly those from Burgundy and the Jura. Ask for natural wines at your local wine shop and look for labels that include the name of the natural wine importer to ensure that you're buying good-quality, natural juice.
"A dark horse that deserves its place at the table is an Italian wine called Amarone. This wine is full of dark jammy fruits, dried figs, cocoa and baking spices," Childers says. "These full-bodied wines should be opened at the beginning of the meal. They open nicely and don't take hours to develop."
For an outside-the-box selection, Gooden recommends an Italian Sagrantino. "Known as the "jewel of Umbria," this earthy red can stand up to roasted meats and hearty side dishes. Aged for at least 36 months before release, this wine is known for its beautiful expression of tannin, lush mouth-feel and long finish."
A wine that's been on Kendig's radar lately is chenin blanc from South Africa. "This wine is a great alternative for Chardonnay drinkers who want to try something different and for people who usually don't care for Chardonnay," she says.
"For me, a Sicilian Frappato is the jam for Thanksgiving," McGaughey says. "It's still light enough to pair with turkey, but with killer mineral tones from its native volcanic soil, a big punch of bright, tart berries, mingled with clove and violet aromas. Or if you really want to get wild, go for a Marcillac with its rusticity, pepperiness and vegetal notes."
Another way to make Thanksgiving extra special is to give dessert top billing with its own pairing. Look for classics like Sauternes, a French sweet wine from Bordeaux, or Madeira, a rich, fortified wine made on the Portuguese islands of Madeira. For that wow-factor pairing, somms turn to Tokaji, sweet white wines from Hungary, which Childers describes as "viscous with apricot, orange peel and white flowers on the palate." Pie, meet your match.