Carla's Butter Hack Is the Easiest Baking Trick I've Ever Tried
See it in action on the Food Network Kitchen app!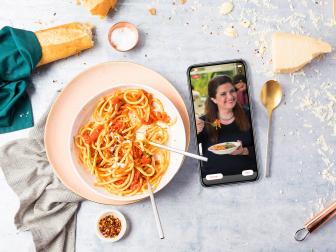 Download Food Network Kitchen now to sign up and take advantage of the latest offer and get 40+ live classes a week, hundreds of on-demand cooking classes, in-app grocery ordering and so much more.
In this series, we're showing off some of the coolest recipes, tips and tricks we've learned from chefs in the all-new Food Network Kitchen app.
Anyone who's ever made pie dough or biscuits knows that the way to keep these baked goods ultra-flaky is cold ingredients from prep to oven. Since baking with pros on the Food Network Kitchen app, I've learned that some people have "hot hands," which makes butter soften faster than you can prep.
One trick Carla Hall and other chefs have recommended is that when butter starts to soften in your hands, stick the whole bowl of dry ingredients and butter in the fridge to cool off until you're ready to begin again. Sounds great, but it doesn't always work in my New York City apartment. My fridge is on the smaller side and pretty stocked at all times. Finding temporary shelf space for a giant mixing bowl is just not happening.
Luckily, while tuning in to Carla's Flaky Buttermilk Biscuit class on the Food Network Kitchen app, I learned a better way to handle this predicament. It's a trick we all learned during kindergarten fire drills: stop, drop and roll. Stop whatever you're doing with the butter, drop it into your dry ingredients and roll it around to stop the softening. When it feels dry enough to handle, you can go back to whatever it was you were doing. In the case of Carla's biscuits, the butter gets shredded into the dry ingredients — another pro tip!
This results in solid pieces of butter that can be evenly distributed within the dough, which results in flaky biscuits every time. I'm convinced this hack would work for other dishes like homemade pie crust and scones — and I can't wait to test it out.
To whip up a batch of Carla's famous biscuits — or scones or pie from scratch! — check out the all-new Food Network Kitchen app. You'll be able to drop in for Carla's classes and learn more must-know tips and must-make recipes.