This Class Will Take Your Holiday Cheese Board to the Next Level
And I mean that quite literally.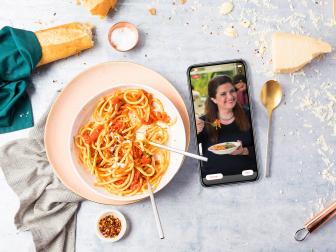 Download Food Network Kitchen now to sign up and take advantage of the latest offer and get 40+ live classes a week, hundreds of on-demand cooking classes, in-app grocery ordering and so much more.
In this series, we're showing off some of the coolest recipes, tips and tricks we've learned from chefs in the all-new Food Network Kitchen app.
I'm not the most confident dinner host, but one of the things I feel I've mastered is the cheese board. I mean, it's just cheese (one hard and one soft, at least), crackers, maybe some olives and nuts and, if I'm feeling ambitious, a little fruit (grapes, apple slices, something dried from the pantry) arranged nicely on a wooden board, right?
Sure. But now, after watching Elena Besser build a holiday cheese board in a live class on the Food Network Kitchen app, I realize that I'm ready to take my cheese board to the next level. Literally!
When making a cheese board, Elena suggests putting flatbread crackers in a cup (standing upright) for added height and visual interest. Sprigs of rosemary distributed in the in-between spaces can do the same thing —plus they give the whole board a festive look (like a cheesy winter wonderland) and nice, fragrant dimension.
Then, once you have a few eye-catching items standing tall on your cheese board, Elena advises you to fill it up. You want your board to look bounteous and overflowing. Don't be afraid to stack or pile some of your accompaniments.
Are you ready to take your cheese board to the next level? Wondering about Elena's other tips and tricks? You can find them in her on-demand class on the all-new Food Network Kitchen app. You'll be able to watch all of her classes, which are chock full of advice for holiday prep and hosting —and so much more.