Psst! Bobby Just Shared the Secret to Golden-Brown Pancakes
And it's surprisingly simple.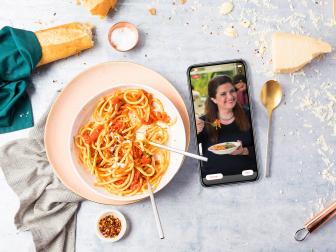 Download Food Network Kitchen now to sign up and take advantage of the latest offer and get 40+ live classes a week, hundreds of on-demand cooking classes, in-app grocery ordering and so much more.
In this series, we're showing off some of the coolest recipes, tips and tricks we've learned from chefs in the all-new Food Network Kitchen app.
Twice a year, my family spends a long weekend at a house on a lake with two other families. We divvy up the cooking (so that no one spends the entire weekend in the kitchen) and, as a rule, my family is assigned all the breakfasts. That's largely because of my husband's waffles: Everyone loves Mark's waffles.
For the other breakfasts, I usually lay out a bagel-and-lox spread, whip up some eggs, maybe pull together a fruit salad. The past few trips, I've even pulled off some well-received French toast using this recipe. What I've never attempted for our big three-family crew – 13 strong, some of them really great cooks – is pancakes. I've always been a little intimidated by them (the pancakes, I mean — although cooking for my culinarily gifted friends can also be scary).
Aside from whipping up a really reliable buttermilk pancake batter (which you can riff on by adding your choice of berries, chocolate or nuts) Bobby shares a lot of useful pancake tricks in this on-demand class — my favorite of which is this: he coats the griddle with nonstick spray and butter. Yes, both. Even though he's using a nonstick griddle.
"What I like to do is take a little bit of nonstick spray and a little bit of whole butter. I use both," Bobby says. "Just enough to kind of coat the pan. The butter, when it melts, is going to give the pancakes a nice golden-brown color."
"You want to make sure that you get a golden edge on the outside of the pancakes, but also on top" he advises. "You want to have that contrast of texture ... I like to have a little crispiness on the outside of the pancakes even though they're nice and fluffy on the inside."
Bobby's Buttermilk Pancakes with Blackberry-Blueberry Butter and Cinnamon Maple Syrup turn out perfect, of course. And, armed with his advice, I'm sure mine will, too.
Do you want to make pancakes with Bobby on the new Food Network Kitchen app? If you sign up now you'll be able to drop in on all Bobby's classes — and get even more of his best tips, tricks and recipes.