The One Simple Trick That Will Help You Make Better Cookies
Dorie Greenspan explains how to get the perfect texture every time.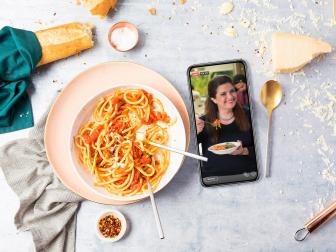 Download Food Network Kitchen to sign up and get access to live and on-demand cooking classes, in-app grocery ordering, meal planning, an organized place to save all your recipes and much more.
In this series, we're showing off some of the coolest recipes, tips and tricks we've learned from chefs in the all-new Food Network Kitchen app.
Making cookies seems simple enough: mix the ingredients, maybe chill the dough, roll and cut or drop by the spoonful onto a cookie sheet and bake. Easy, right?
Yet somehow, even the most skilled bakers manage to open the oven to a surprise every now and then. Drop cookies with sunken middles, cutout cookies so puffy their shape is no longer recognizable, thin-and-crispy puddles where balls of cookie dough once were — the list goes on and on.
Thank goodness for baking experts like Dorie Greenspan. When I saw her Linzer Sablé class on the Food Network Kitchen app, I knew I had to watch it (and not just because these perfectly spiced, jam-filled sandwich cookies are one of my favorites). I was sure that Dorie would share more than a few tips that I could use in my own kitchen.
Sure enough, this 14-minute video is chock-full of great advice. And, my favorite take-away is surprisingly simple: keep the mixer on low when you're making cookies. Dorie says, "you don't want to beat air into the mixture." She goes on to caution that, if you do, "the cookie bakes and it rises in the oven … and then it comes out of the oven and it collapses." Explains those cookies with the sunken middles! According to Dorie, if you beat the butter, sugar and eggs on low (or by hand), you'll get the right texture for cookies. How smart is that?!