This Easy Skillet Cookie Helped Me Quit My 'Lazy Baker' Habits
Eyeballing that vanilla? Not a great idea.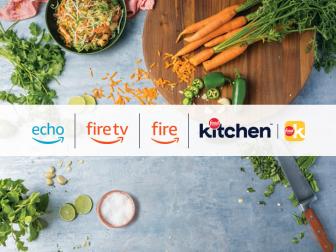 Download Food Network Kitchen to sign up and get access to live and on-demand cooking classes, in-app grocery ordering, meal planning, an organized place to save all your recipes and much more. Own a Fire TV, Fire tablet or Echo Show? You can now get a 1-year complimentary subscription to the app — read here for more details. Terms and conditions apply.
In this series, we're showing off some of the coolest recipes, tips and tricks we've learned from chefs in the all-new Food Network Kitchen app.
When I was about 13, I saw nothing wrong with putting frozen butter in my mom's KitchenAid mixer. Long story short, that WILL break a paddle attachment and your mom will NOT be impressed. Twenty-some years later, I'm happy to report I always bring my butter to room temp now.
But beyond that, my cookie-making skills haven't improved greatly; my husband thinks it's hilarious that I bake flat cookies. Every. Single Time. And I may still cut corners to speed up the process and reduce the mess that ensues.
Finding the Peanut Butter Skillet Cookie class on the Food Network Kitchen app was like a dream come true: one bowl, less mess, delicious peanut butter-y goodness and a great presentation. But I wasn't fully prepared for everything Food Network Culinary Producer Ali Clarke was about to teach me.
For example, I'm a bit lax when it comes to that whole "creaming the butter and sugar" part of a recipe. And I admit I will eyeball vanilla and even salt at times to avoid dirtying another teaspoon. It's not like I fudge the flour measurements — I'm not an animal! So, how bad could these habits really be?
"A lot of times you see recipes that say one to two minutes and you're like, 'Do I really need to sit here for one to two minutes?' But it does make a huge difference," Ali says of creaming the butter and sugar. You want to mix them until they are light and fluffy and, essentially, become one. This simple task, which I overlook far too often, eliminates grainy cookies.
And about those flat cookies I make on the reg? "Change out your baking soda or baking powder," Ali says. "If you have a leavener in your cookies, you should be getting a rise out of them."
Perhaps the biggest takeaway for me, though, is that I have to start measuring vanilla. "Weirdly ... you can add too much, and eyeballing the vanilla can change the recipe a little bit and can change how things bake," Ali says.